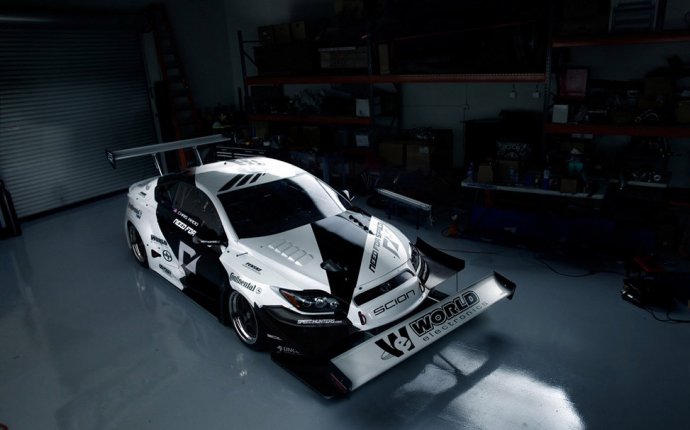 Race Car Wrap Design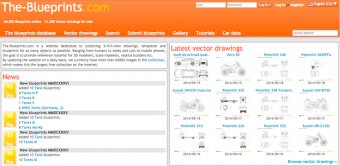 Many vehicle wraps are made of large, printed vinyl stickers that are applied to the surface of the vehicle. However, designing these effective ads can be a little complex. Any designer who decides to undertake a vehicle wrap project should at least be at an intermediate skill level with standard graphic design programs and do their research before they jump into it.
Below, we'll discuss the basic process for designing print-ready vehicle wrap files and how to deliver them to your client. Let's get started.
1. Gather information
_
Before you even start designing anything, you need to obtain an accurate template. It's crucial to create the designs on an accurate template file of your client's vehicle in order to be able to create a design that is to scale and as print-ready as possible. Vehicle wrap files can be large and complex and some vehicle wrap printers will charge your client up to $75/hour or $250 total for any fixes.
Ideally, your client will provide you with template files of the the car's blueprint up front. If not, they can purchase them for you at car blueprint templates websites like this one or ask their vehicle wrap printer to provide them with one. Please note that templates files purchased online will not always be 100% accurate, since each vehicle may have slight irregularities on the surface.
Next, find out which vehicle printing company the client is using and what their specifications are. Each vehicle wrap printing company may have different file requirements or printing processes, so it's important to gather as much information as possible before you even start designing.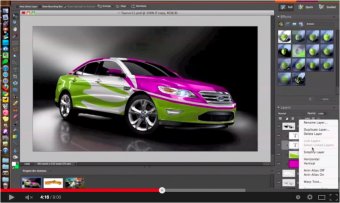 Lastly, ask your client to provide you with high quality photos of their vehicle and to let you know which car model it is. Ask if there any irregularities on the cars surface that may be different than existing templates.
2. Gather inspiration
_
Now that you have all the technical information ready to go, it's time to start thinking about how to turn your client's vehicle wrap dream into a reality! Let's assume that they already have a logo and advertising copy ready to go. You should be asking them about what type of vehicle wrap designs they like.
While it's not recommended, many clients love photos in the vehicle wrap design. If that's what they want, very high resolution images need to be obtained and purchased. You'll need to agree on a budget for stock photos.
It's always a good idea to keep a vehicle wrap design simple, especially if it's an ad for your client's business. Your client's vehicle may be going 65mph on the freeway, so you'll need to make sure that the brand's message can be read in seconds.
Here's a cool vehicle wrap Pinterest board and design gallery to get you started.
3. Create the design
_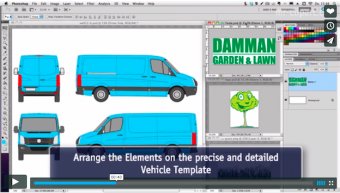 Now that you've obtained photos of your client's vehicle, you can use them to quickly sketch out your design. You can also create the design in the template files, but many designers find it easier to Photoshop the design on a photo of the vehicle first.
It won't be a 100% match for how it will look on the real car, but it will make it easier to visualize how graphics look when they meet at corners and rounded surfaces of the car. Follow this great tutorial on how to do it (this tutorial is great too).
Make sure that any mockup you create can be easily recreated or applied to the template files before you show it to your client. Mockups are great for showing your client how the design could look in real life and for getting their approval for the final design. However, it's important to manage their expectations appropriately by showing them designs that can be implemented in real life, not ones that just look good in Photoshop.
4. Apply the design to the template
_
Vehicle wrap print files can be created in either Adobe Illustrator or Adobe Photoshop. At 99designs, we prefer that our designers deliver Adobe Illustrator files in vehicle wrap handovers, since some vehicle wrap printers only accept vector files for printing.
Basic things to consider:
Set your document color mode to CMYK
One way to create the design to scale is to use 1:10 ratio
Set the document ppi to 720
Use high resolution photos/raster images if they're part of the design
Convert all fonts to outlines
Label and organize each part into separate layers and make sure that each graphic has it's own sublayer.
Add 5-10 in bleeds to each piece of the template. The design will have to wrap around objects like the edges of doors, and adding extra bleed will help the design grip to the car.
5. Deliver the files
_
Provide your client with either .ai or .psd files, in addition to an uncompressed .tiff file of the vehicle wrap. Makes sure that they know the name or own a license to all fonts used in your design.
If any photos or other raster images were used in the design, include the raw photo file as well so that the vehicle wrap people can use it if they need to adjust your files. For a more detailed example of file specifications, check this vehicle wrap printer's file specifications.
Vehicle wrap projects can be a challenge, but it can be one of the most rewarding examples of watching your designs come to life on a big, fast-moving object.
Source: 99designs.com