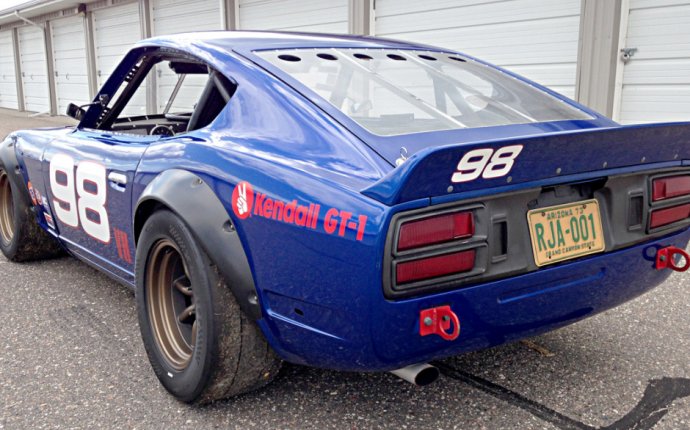 Datsun 240z Race Car
The difference between the Datsun 240Z and your everyday three-and-a-half thousand dollar sports car is that about twice as much thinking went into the Datsun. It shows. For the money the 240Z is an almost brilliant car.
The people at Datsun balk at calling the 240Z a sports car. To them it's a "personal" GT car. Even so, they know perfectly well who the customers will be-sports car buyers-adventuresome young Americans who were collecting their dollars for an Opel GT or MGB-GT or Porsche 914 until something better came along and changed their minds. Still, the "personal" GT car description somehow fits. It separates the Datsun from whimsical, superficial sports cars like the Opel GT and moves it off into a mature class of automobiles that has more to offer than just amusement. The Z-car, as it has come to be called, is a very real transportation automobile, meant as much for coast-to-coast journeys as it is for playing around on idyllic summer days. Datsun is probably right. The Z-car really isn't a sports car.
It is exactly the kind of car we have come to expect from Datsun, however. You can't really consider Datsun to be an innovator-it didn't invent the overhead cam engine or disc brakes or independent suspension-but it is one of the most ambitious car manufacturers alive these days and it has a habit of incorporating these sophisticated systems into easily affordable cars. The budget priced PL5I0 sedan is the envy of all its competitors, and the vitality in the engine and gearbox of the 2000 sports car makes a Triumph feel like a first-round loser in the soapbox derby. With that kind of siblings, the Z-car would naturally be a gifted performer.
And it is. Curiously, a double standard has grown up through the years concerning sports cars and equivalently priced- family sedans-the sedans are always more powerful. Not so with the Z-car. It will keep right up with your neighbor's Bonneville and leave all of the sports cars in its class scuttling along in the slow lane. At Orange County Raceway the test car ran through the quarter in 16.1 seconds at 86.5 mph more than one second and 9 mph quicker than a Triumph TR6. It is also several mph faster than a 2-liter Porsche 91IT, although the elapsed time is not quite as good because the Z-car continues Datsun's practice of using axle ratios suitable for the Bonneville salt flats.
Of course, it should also be obvious that the Z-car continues Datsun's practice of using exceptionally powerful engines-in this case a 2.4-liter single-overhead-cam Six. It's a new engine for Datsun-yet not really new because it is actually one-and-a-half of the Fours used in the PL51O sedan. With the help of two SUs and a 9.0-to-one compression ratio it generates 151 horsepower at 5600 rpm, and if you are so inclined you can turn it all the way to 7000 rpm before you hit the red line. We aren't inclined, however. Like all Datsuns, the torque curve is as flat as Nebraska and the engine noise is so unpleasant above 6500 that there is just no reason to ever go up there.
Source: www.caranddriver.com