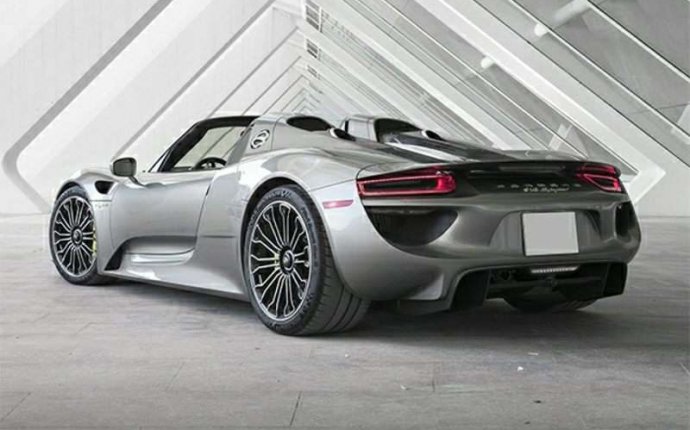 Coolest Looking Sports Cars
"Form follows function" may seem like a simple recipe, but high performance alone doesn't guarantee good-looking sports cars. To achieve an eye-pleasing combination of athleticism and design, there has to be just as much attention to visual detail as there is to lowering lap times—which is certainly the situation with 10 choices listed here. They all showcase sheet metal that not only signals that an engaging driving experience lurks within, but also displays plenty of hot-car haute-couture without. Further, these great-looking go-fast entries are all from mainstream-ish auto brands, meaning they offer a certain amount of approachability as compared to six-figure supercars. Some, like the modern-day muscle cars or the FR-S/BRZ duo, are downright affordable. Let's take a look!
Ford Mustang
With measured nods to both its all-American roots and an increasingly international audience, the 2016 Ford Mustang wears 21st-century muscle-car styling. For example, designers have brought back a fastback profile, inspired by the shape of classic Mustangs from the 1960s, and also modernized the grille treatment with today's popular open-mouth look. The car's lighting is a similar blend of the old-school and the new, with its taillamps as a case in point: They offer the Mustang's hallmark sequential turn signals, but updated to rely on LEDs instead of traditional illumination. Like other good-looking sports cars, the Mustang also makes good use of its aero bits for exterior accents, and on the topic of appearances, Ford additionally launched a hood-vent turn-signal indicators, a black-painted roof option and fresh racing-stripe packages specifically for 2016. The Mustang migrates to the next-gen SYNC3 in-car communications and entertainment system as well.
Chevrolet Corvette
The 2016 Chevrolet Corvette rewards the eye from just about all angles, from its signature LED front lighting to its four center-mounted rear exhaust outlets. However, it's details like a standard, hood-integrated air extractor that distinguish it from other good-looking sports cars. That's because that functional design cue is effective at increasing downforce and visual drama alike. The new selling season then adds more ways for owners to modify the appearance of the Corvette, backed by three comprehensive, color-themed factory design packages, new wheel designs, two-tone seating in red or gray, a carbon-fiber hood highlighted by a visible weave pattern, and additional exterior finishes, including Corvette Racing Yellow Tintcoat. Indeed, Corvette Racing informs a number of different style enhancers for the car, especially in the Z06 C7.R edition that will pay direct homage to the car's racing success—albeit in a strictly limited production run of 500 units.
Chevrolet Camaro
The slimmed-down, all-new 2016 Chevrolet Camaro is some 200 lbs. lighter than last year's model, and that drastic weight loss has led to serious gains in performance and presence. As for the former, the sixth-generation Camaro SS is in line to be the most powerful one ever, thanks to a 6.2-liter V8 capable of 455 horsepower and 455 lb.-ft. of torque, and the brand will serve up two other new engines, too, including a high-efficiency 275-horsepower turbo. In terms of presence, well, the 2016 Camaro makes the most of its lowered curb weight by showing a taut yet curvier appearance, with sharper sculpting and a coiled, ready-to-strike stance. The cabin, of course, also has been thoroughly redesigned, so that the new cockpit now combines the driver-oriented cues you expect in good-looking sports cars of today, but set off by surprising fashion touches like "Interior Spectrum Lighting" that enables 24 separate ambient-lighting effects.
Dodge Challenger
Perhaps the most unabashedly retro of today's good-looking sports cars, the 2016 Dodge Challenger sets the way-back machine to 1971 for its latest style changes, which draw their inspiration from back in the segment's original heyday. Particularly noticeable are cues such as the car's split grille and "power bulge" hood, along with interior touches like available hound's-tooth upholstery. The brand also continues to revive heritage-based exterior colors for the Challenger, this year re-introducing Plum Crazy. That being said, the Challenger carries on new Dodge traditions as well, like LED "halo" headlamps and matching taillights, along with an available Blacktop appearance package that debuts a 20-inch Gloss Black wheel design for the new selling season. In fact, when it comes to wheels, Dodge delivers a dozen different options for the Challenger, and that's just for the outside. Inside, drivers can pick from three steering-wheel designs, including a flat-bottomed, heated, leather-wrapped tiller from SRT.
Dodge Viper
Boasting multiple, massive hood vents, a side-mounted dual-exhaust system with cast-aluminum outlet bezels, and its most aggressive aero kit yet, the 2016 Dodge Viper furnishes a variety of distinctive style traits not found on other good-looking sports cars. For true exclusivity, though, owners can leverage some of the mainstream's most extensive customization resources: The Viper "1 of 1" personalization program recently rolled out a matte-finish option that boosts the total number of build combinations available for the car to 50 million configurations, complete with 16, 000 exterior colors and more than 48, 000 selections for body stripes. Beyond its supremely serpentine silhouette, the Viper also sheds rivals about as easily as its namesake sheds its skin, courtesy of an 8.4-liter V10 engine. With 645 horsepower and more torque than any other naturally aspirated sports-car engine in the world—600 lb.-ft.—that unit has driven the current Viper ACR to 13 SCCA-certified track records since its introduction.
Mazda MX-5 Miata
Anytime you have to redesign an icon like the Mazda Miata it's a challenge, but when a car like that celebrates its 25th anniversary at the same time, something special is demanded. And that's exactly what drivers get in the 2016 Mazda MX-5 Miata. The new-generation roadster is a sleek, up-to-date exemplification of Mazda's "KODO" design language, with the car truly taking that "Soul of Motion" theme to heart. What stands out, according to the brand, are details like the multi-dimensional surfacing of its sheet metal, expressing "the Japanese sense of contrast between stillness and motion, " and a cockpit engineered to optimize the inimitable enjoyment of open-air driving. Meanwhile, according to the world's largest product-design awards—Germany's prestigious "Red Dot" competition—the styling of the Miata was among this year's "Best of the Best." Nor should enthusiasts worry, as the driving dynamics of the car have earned the same kind of praises from the automotive industry.
Alfa Romeo 4C
At just 157 inches in length, the fun-sized 2016 Alfa Romeo 4C is tinier than your typical Italian supercar, although there's no shortage of exotic design cues on display. But while that much is obvious from the first glance at the 4C, those new to the Alfa brand may not realize that the car's exterior actually owes a significant debt to the design of the Alfa Romeo 33 Stradale, a production version of the Type 33 racecar that was manufactured solely to qualify the racer for motorsports competition. For instance, the bold cooling ducts for the 4C' mid-mounted turbocharged engine, integrated into the dramatic side sculpting of the Alfa, are on a clear line of descent from those in the 33 Stradale, as are the newer car's performance-focused proportions. The cabin of the 4C also sticks closely to the Type 33 template, from its standard composite-framed sports seats to its driver-centric instrument cluster.
Source: www.car.com