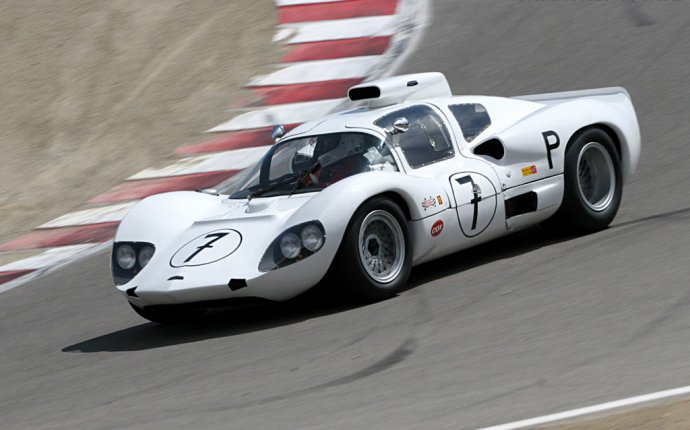 Chaparral 2d Race Car 67
The Chaparral 2D Race Car '67 is a Race car produced by Chaparral. It first appears in Gran Turismo 4.
The car appears to be the #7 driven by Phil Hill and Jo Bonnier, who won the Nürburgring 1000 km endurance race in 1966.
In-game description
In 1966, the Chaparral racing team decided to expand its motorsports ventures outside of North America and enter the world's stage of international endurance racing. For that purpose, Chaparral created the stylish 2D. Based off of the company's proven 2A race car, the 2D featured a body that was modified to meet the Group 6 sports prototype regulations of the FIA/CSI (the 2A met only SCCA regulations). This meant that in addition to a reconfigured body design, the car needed an entirely different set of headlights, taillights, and turn signals, not to mention a new spare tire. But the biggest change was its fixed roof. Chaparral had to cover the open cockpit of the 2A to meet the FIA requirement for windshield surface area.
While many of the major components from the 2A were carried over to the new car, including its 493 HP-plus Chevrolet 327 engine and race-tuned suspension, the 2D is best remembered for its svelte shape. Later, its successor, the 2F, would feature a radical spoiler/airbrake that sat high atop the back of the car. It was adjustable from the driver's seat, and provided gobs of downforce through corners while offering little wind resistance on the straights.
At the 2D's first race, the ADAC 621.3 miles event at the famed Nürburgring, it went toe to toe with the Ferrari Dino 206SP and the Porsche 906 and, in the end, claimed its first victory.
GT6
This car can be purchased for 3, 750, 000 Credits. It is a simplified car.
GT5
As a Standard car, the Chaparral 2D Race Car '67 can be purchased from the Used Car Dealership for 12, 213, 274 Credits. It is a Level 21 car.
GTPSP
This car can be purchased for 1, 250, 000 Credits.
GT4
The Chaparral 2D Race Car can be bought from the Chaparral dealership for 1, 100, 000 Credits, or won by placing first in the 4hr Nurburgring endurance.
Source: gran-turismo.wikia.com