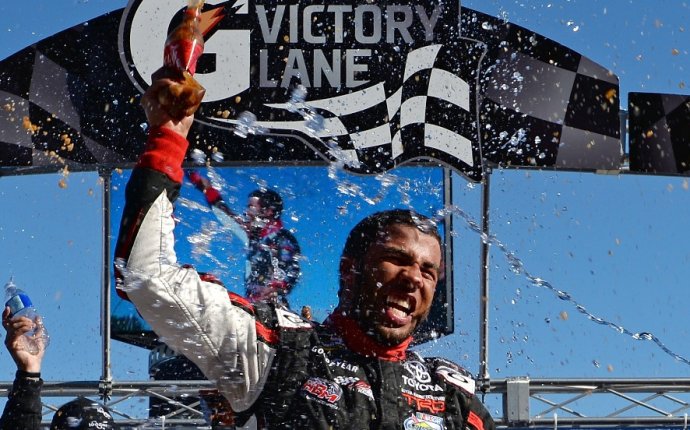 Black Race Car Drivers NASCAR
It's 2015 and, just like the past 50 years, there's still no black driver consistently racing in NASCAR's top series.
But here is Darrell "Bubba" Wallace Jr. trying to do just that.
The 21-year-old driver, who is biracial, has youth, charm and, most importantly, talent. He's on the cusp of racing at the Sprint Cup level while this year competing on the Xfinity circuit. He's NASCAR's best hope now at seeing a black driver at its top tier.
The Southern, white sport has integrated slower than any other major American sport after decades of racism and discrimination. Strides have been made since the turn of the century, and today NASCAR has female, Hispanic and Japanese-American drivers racing at its top level along with a burgeoning development program for minorities.
Even though African-Americans make up more than 13 percent of the country's population – and a greater percentage in the Southern states where NASCAR dominates – there is not a black driver in the Cup level.
It's tough for anyone to break through because of costs associated with starting in the sport as well as securing and keeping sponsorships. But even in the best of economic times, it's been difficult for a black driver to get into any of NASCAR's national series.
Wallace sits in fourth place in the Xfinity series points standings before Saturday's Hisense 300 at Charlotte Motor Speedway. He's raced inside the top 15 for 91 percent of the laps this year.
He doesn't believe he's owed a spot because of his skin color. Wallace understands this moment in history and accepts the challenge, he told the Observer this week. He said NASCAR has made some strides with African-Americans, but not enough.
"There's nobody (of color) in the stands. There's a few on the pit crews and in the office there are some, " Wallace said. "It's not enough to finally say the sport is changing. It's going in the right direction. You just have to keep getting after it."
Family spent $1 million plus
Wallace and his family don't know why his older sister nicknamed him Bubba the day he was born in Mobile, Ala., but it stuck.
The family moved to the Charlotte area when he was 2 years old, and soon after, Darrell Wallace Sr. started a Concord industrial cleaning service that continues to expand.
Wallace, born to a white father and black mother, wasn't interested in racing until he got into go karts at the age of 9. He estimates that between 2003 and 2009, as he grew more serious about racing on dirt and short tracks, his family spent more than $1 million of its own money on equipment and travel.
In those lower levels, Wallace was subjected to racism by other drivers, he said. When he was 13 a fellow driver shouted a racial epithet at him after a race in Braselton, Ga.
Last year, NASCAR turned over its Instagram account to Wallace, who sent pictures and videos from the Black Entertainment Television Awards. He received many racist comments.
He tweeted, "The people who are upset over the Instagram takeover w/ NASCAR n BET. are what's wrong with the world today. #ignorance."
Now he's primed to become the fourth black driver in NASCAR's top series, following the late Wendell Scott, Willy T. Ribbs and Bill Lester.
Source: www.charlotteobserver.com