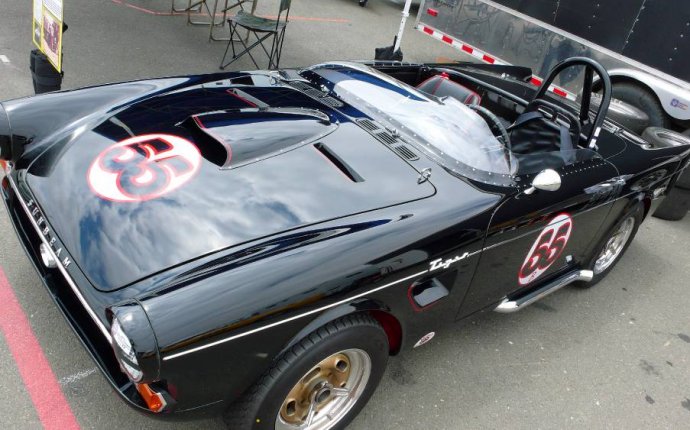 Hollywood Sports Cars
This 1963 MGB roadster looks stock, but sports a Ford 289 V-8 in place of its factory 1800cc four. According to the seller, the installation was done in 1969 by Hollywood Sport Cars, a fabled Los Angeles shop known for building racing MGs as well as the factory-sponsored "No. 55" Sunbeam Tiger race car. Though not a Tiger, this car certainly has an interesting history, and though we'd prefer a manual instead of the period-installed automatic, that shouldn't be too hard. Find it here on eBay in Tarzana, California with reserve met under $8k.
In addition to building "No. 55, " Doane Spencer of Hollywood Sports Cars had been involved with the Shelby Tiger prototype and also helped develop some of the Tiger's LAT performance options, so had a lot of experience with American V-8s in small British sports cars. The seller says the swap involved considerable re-engineering of the entire package, including mounting the engine far enough rearward to achieve good front-rear weight distribution and using a Tiger rear end to handle the extra power. A recent respray reportedly has the body in show-like condition, though we're not sure about the fit of that rear bumper.
Interior photos don't show as much as we'd like, but the dash appears to be complete except for a radio. The seller says the steering wheel needs refinishing and that new carpet should be installed, but adds that the car can be used as-is. The car reportedly was owned by a mechanic for over 45 years and was well-maintained. It is said to be well-balanced and easy to drive.
The Ford small-block looks like a snug fit, but was installed without cutting the inner fenders. The car has an oil cooler, electric fan and hood louvers to aid engine cooling, a well-known Tiger issue that's probably not uncommon in swaps like this. The remote oil filter seems to have borrowed some pieces from the similar Tiger setup and the exhaust manifolds reportedly are Tiger pieces as well. The engine is said to start easily and idle smoothly.
We're not sure how much financial sense this car made in 1969, but at today's Tiger prices the car could be a bargain. Certainly it's just the thing for someone who thinks there's nothing wrong with an MGB that a dose of small-block Ford can't fix.
Source: bringatrailer.com