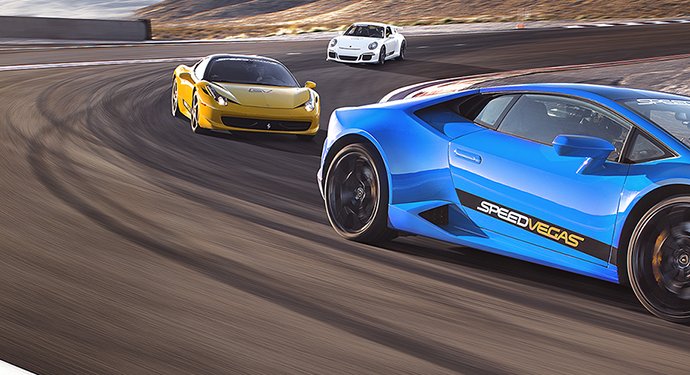 Exotic Car Racing in Vegas
Head to the Las Vegas Motor Speedway, 18 miles north of the Las Vegas Strip. Upon arrival, check in and register with the welcome staff. Then meet and greet the professional racing instructor.
A 30-minute safety orientation will cover proper driving position, steering techniques, car specifications (power, gearbox, braking, and accelerating), and proper racing lines. Take a Porsche Cayenne GTS for a 2-lap test drive (as a passenger) to get used to the track and the conditions. Then hop in the driver's seat of the chosen supercar and get ready to ride for real.
There are no speed limits on this track, so hit the gas and feel the rush, accelerating up to 130 miles per hour. The instructor will be in the passenger's seat to offer support and encouragement. The primary objective is to get the car racing around the track as quickly as possible — to push each vehicle to its limits — while remembering that safety is the number one priority at all times.
Select one of the following options:
Throttle 5-lap Package: Audi R8, Nissan GT-R, Aston Martin Vantage or Mercedes AMG GT
Power 5-lap Package: Ferrari F430 F1, Lamborghini Gallardo LP550, Porsche 991 GT3. Porsche 991 Turbo or Corvette C7 Z06
Power 6-lap Package: Audi R8, Nissan GT-R, Aston Martin Vantage or Mercedes AMG GTS
Power 7-lap Package: Porsche Cayman GTS
Elite 5-lap Package: Ferrari F458, Lamborghini Huracan LP610 or McLaren 570s
Combo 10-lap Package: 5-laps in a Ferrari F430 and 5-laps in a Lamborghini Gallardo
Source: www.viator.com