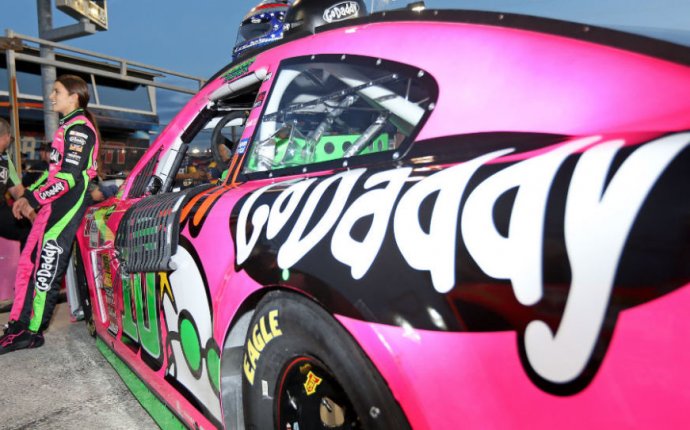 Danica Patrick Race Car
CHARLOTTE, N.C. (AP) — Stewart-Haas Racing filed a $31 million breach of contract lawsuit against Nature's Bakery on Friday, accusing the company of refusing to pay millions of dollars it owes the team to sponsor driver Danica Patrick this season.
Nature's Bakery was scheduled to sponsor at least 20 races this NASCAR season, the second year of a three-year deal to be the primary sponsor for Patrick.
The lawsuit filed in state superior court says Stewart-Haas Racing had "significant concern" Nature's Bakery could afford a primary sponsorship, but founder David Marson "provided repeated assurances that Nature's Bakery had the cash flow and funds to meet all the financial requirements."
However, the suit claims after executing the agreement, Marson and Nature's Bakery chief financial officer contacted SHR about "cash flow issues, and asked if payment amounts and deadlines" could be modified on the more than $15 million the company owes the team each season. SHR also accused the company of eventually concocting "a scheme to avoid further payments" by claiming Patrick had been endorsing competing products and was not using her social media presence enough to promote Nature's Bakery.
The suit says Nature's Bakery sent a letter to the team on Jan. 19 terminating the sponsorship agreement, and that the company has missed several re-scheduled deadlines to pay. The lawsuit seeks $31.7 million, plus interest for the breach of contract.
Nature's Bakery did not immediately respond to a request for comment late Friday
SHR said it wants a court to resolve the matter.
"It is an unfortunate situation, as the team has delivered on all aspects of its contract and was prepared to do so again in 2017. Ultimately, this is a situation that will be resolved in a court of law, " the statement said, adding the team is moving forward with plans to field four cars in the Monster Energy Cup Series while also expanding to include a full-time Xfinity Series team.
"The litigation with Nature's Bakery will not impact the organization's on-track efforts, " the statement said.
Nature's Bakery is not the first — and won't be the last — company to enter into a sponsorship agreement and then default on payments. Many companies don't appreciate the financial undertaking of a NASCAR sponsorship, and when the checks stop, the teams often have to shut down the car.
Even though Nature's Bakery was on the hook for 25 races — it had the option to sell five to other companies — SHR remains committed to fielding Patrick's car.
The first sign of trouble came two weeks ago when Patrick did promotional work wearing a firesuit adorned with TaxAct, which is only scheduled to sponsor three races this year on the No. 10 Ford. SHR acknowledged then it was in discussions with Nature's Bakery, but gave no further information.
Nature's Bakery came into NASCAR in 2016 as one of the smallest companies to sign a primary sponsorship deal with an A-list driver. The Nevada-based food brand replaced Patrick's longtime sponsor, GoDaddy, and used its signature tagline, "Energy for Life's Great Journeys, " on Patrick's car.
The company, which sells fig bars and promotes healthy eating, has fewer than 500 employees in the United States. Its bars are sold in all 50 states and 22 countries. But SHR alleged in the suit the company faced numerous setbacks last year, including a lack of product distribution, recurring mold issues, a fire in its St. Louis, Missouri, plant and termination of its vice president of sales.
The suit alleges that Nature's Bakery stopped communicating with SHR late last year about this coming season and on Dec. 19, the CEO sent a letter to SHR asking to "initiate a frank discussion of our Sponsorship Agreement and some concerns we have heading into the New Year."
Initially, the pairing with Nature's Bakery was a natural fit for Patrick because she heavily promotes a healthy lifestyle and clean eating. She has started a fitness program that will be turned into a book, has launched an active-wear clothing line and uses her social media channels to encourage fans with recipes and workouts.
Patrick has also promoted Nature's Bakery on social media, and has claimed she ate the fig bars before she was partnered with the company.
But, according to the lawsuit, Nature's Bakery took issue with Patrick using Instagram to promote Six Star Pro Nutrition Protein Powder, Purely Inspired Protein, home-made energy balls, a homemade spinach smoothie and various other home cooked meals ranging from ice cream to grilled cheese. SHR maintains none of those products is in competition with fig bars or brownies, and that Nature's Bakery "liked" most of the Instagram posts. An exhibit filed with the suit includes numerous Patrick photos from Instagram that show Nature's Bakery had "liked" the post.
"By "liking" Danica Patrick's various posts regarding protein powder and homemade food items, Nature's Bakery's public endorsement of those posts was open for the entire world to see, " the suit alleges.
SHR claimed Nature's Bakery never complained about the Instagram posts until it began missing payments and accused Patrick to be in breach of contract.
Patrick has 154 starts at NASCAR's top level, with six career top-10 finishes. She won the pole for the Daytona 500 in 2013, and finished 24th in the standings the last two seasons. She led a career-high 30 laps last year.
She's twice led laps in the Indianapolis 500, finished a career-best third in that race in 2011, and won her only IndyCar race in 2008, in Japan.
Source: racing.ap.org