Best Daily Driver Sports Car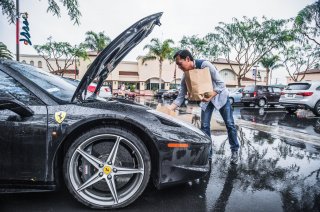 Milton Chu was driving to the grocery store when his passenger asked him, "Doesn't that noise bother you?" "What noise?" he said, listening for a rattle or knock he hadn't noticed before.
"The engine. It's so loud."
Chu was accustomed to the stirring V-8 aria because the Ferrari California was his daily driver. By the time he traded it in, he'd accumulated 77, 000 miles over four years. His new—and only—car is another Ferrari, this one a menacing black-on-black 458 Italia Spider that he uses for everything from his weekday work commute to weekend trips to the hardware store.
Grocery getter:
Milton Chu loads groceries into his Ferrari's frunk before heading to In-N-Out Burger for a Double-Double.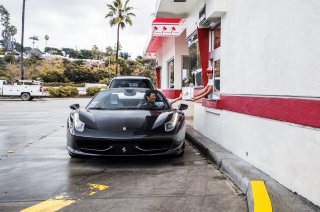 "I understand why some people don't drive their Ferraris—because they feel that they're preserving something that's almost perfect, " he says. "But for me, that's not as much of a priority as driving the car. I want to experience the engine, the acceleration, the handling. I don't believe in reincarnation. I'm only going to live once. I paid for the car, so I might as well use it."
Chu, a 53-year-old ophthalmologist, is one of the rare and enlightened enthusiasts who drive their exotic cars on a daily basis rather than sequestering them in climate-controlled garages like museum-quality treasures that can be exposed to the elements on only the most exceptional occasions. Ferrari owners are a case in point. The company's most recent survey found that American owners of the FF—the four-seater that comes closest to being a family car—averaged about 3, 000 miles a year, while sportier Ferraris were driven even less frequently.
It's true that Ferraris from the early days of the electronics era are ticking time bombs. But the factory now offers a competitive warranty—three years bumper to bumper with unlimited mileage—and seven years of free maintenance on new cars. These days, frankly, just about any car from any manufacturer can be ridden hard and put away wet.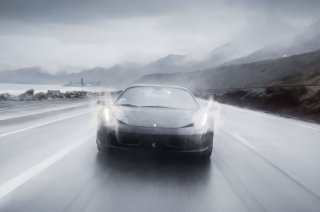 "I don't believe in reincarnation. I'm only going to live once. I paid for the car, so I might as well use it."
Ray McKewon, for example, has put nearly 100, 000 miles on his Maserati GranTurismo. A 66-year-old guitarist and music producer, he treats the car like a garage band's Ford Econoline. "It can hold two electric guitars, a guitar amp, a music stand, a guitar stand, and all my foot pedals, " he says. "I don't regret a single penny I've spent on it. If you're going to buy a Maserati, drive it. If you want something to stare at, buy a painting."
Malcolm Barksdale shares McKewon's attitude. "Contemporary cars aren't going to go up in value, " he explains. "So why buy a car and not drive it?" The 72-year-old architect owns a Ferrari 599 GTB Fiorano. He bought it with 507 miles on the clock, leading him to believe that the original owner bought it in San Diego, drove it to San Francisco, and dumped it in a hangar. Barksdale, by contrast, drives it to work every morning and is happy to park it on the street.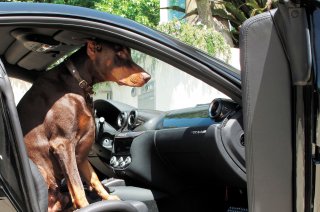 As he says, "It's just a car."
Man's best friend:
With the last name "Barksdale, " Malcolm Barksdale is sort of required to own a dog. What did the Ferrari owner name his furry friend? Dino, of course.
Barksdale cycled through a series of quirky sports cars before spending half a year's salary to buy his first Ferrari—a used 308 GT4 2+2—and using it as his everyday ride. (He also did his own service and changed the clutch in the garage of his condo.) "I put 40, 000 miles on it and sold it for what I paid for it, " he says. Over the years, he's logged thousands of miles in Ferraris, including a 365 GTC, a pair of 456s, a Daytona, and even a 275 GTB, often taking his big dogs along for the ride. His collection also includes several lovely non-Ferraris. "I didn't buy any of them to be collectible, " he says. "I bought them because I loved them."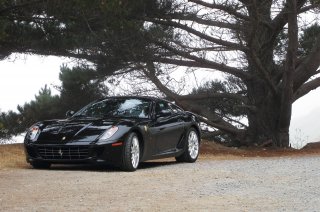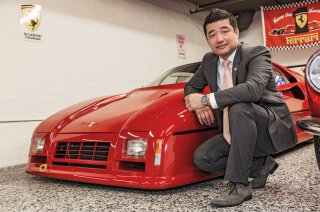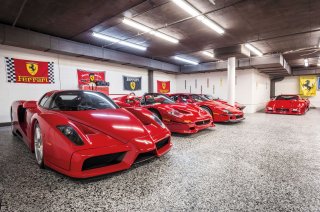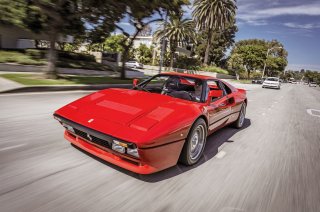 Source: www.automobilemag.com