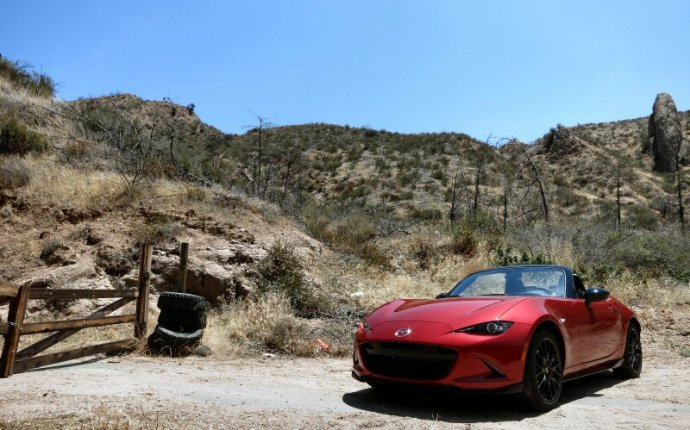 Sports Cars Affordable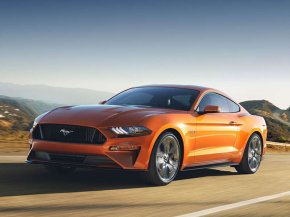 Ford
The venerable Ford Mustang has been an American icon since it first debuted in 1964, and even at 53 years old, it shows no signs of slowing down. The 2018 Ford Mustang comes with three engines, each of them is more than potent enough to make this muscle machine a legitimate sports car. Ford hasn't specified how much power the 2018 models will make, but it'll be equal to or a bit more than the 2017 model's figures, where the 2.3-liter turbocharged inline-four in the EcoBoost made 310 horsepower, while the 5.0-liter V-8 in the GT makes 435 hp. The top-of-the-range Shelby GT350's high-revving 5.2-liter V-8, which cranks out 526 hp, will likely stand pat for now.
All three Ford Mustang models are rear-wheel-drive, and all come with a manual transmission as standard—though the EcoBoost and GT models also now offer a 10-speed automatic transmission that's new for the 2018 model year. Those two fast cars also come in both coupe and convertible forms (the Shelby is only available with a solid roof). The 2018 model year upgrades also include a host of new technological features, like a digital 12-inch instrument panel, pedestrian detection technology, and, weirdly enough, a start button that pulses in time with a horse's heartbeat.
Chevrolet Camaro
Chevrolet
Once the subject of jokes for its bloated styling and T-top roof, the Chevy Camaro has grown all the way into one of the best sports cars on the planet. While the 6.2-liter V-8-powered SS making 455 hp and the supercharged V-8-engined ZL1 packing 650 hp have the power to run neck-and-neck with cars costing three times as much, even Camaros with the lesser 335-hp 3.6-liter V-6 or 275-hp turbocharged 2.0-liter inline-four are still plenty of fun to drive. And there's even a 1LE track package available for V-6 and V-8 models that pushes this cheap sports car even closer to supercar territory.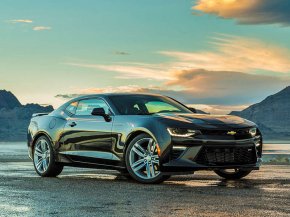 Whether coupe or convertible, every new Chevy Camaro comes with a standard six-speed manual gearbox, but you can grab it with an automatic (an eight-speed unit on everything but the ZL1, which gets a new 10-speed transmission) should you desire. And while it may have the soul of a classic muscle car, the Camaro offers plenty of 21st Century tech features, like standard 4G LTE Wi-Fi, standard touchscreen infotainment, and an available head-up display.
Subaru WRX
Subaru
It may have four doors, but the Subaru WRX is every bit a sports car. Based off the safe, reliable Impreza sedan, the WRX crams a turbocharged boxer-four engine beneath its hood; thanks to that engine's 268 horsepower, its broad torque curve, and the Subaru's standard all-wheel-drive, this fast car can run from 0 to 60 miles per hour in 4.8 seconds, according to Car and Driver.
The current WRX is the first of the breed to offer an automatic transmission—in this case, a CVT unit that pretends to have gears during performance driving—but unless you desperately fear exercising that left leg, you're better off with the six-speed manual. And unlike most cheap sports cars (or really, ones at any price), the WRX can add all the back seat's room to its 12 cubic feet of trunk space, thanks to 60/40 folding seats in the rear.
Subaru BRZ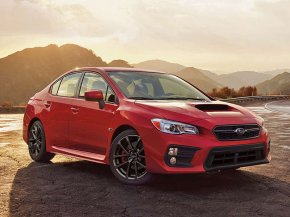 It may share a family name with the WRX, but the Subaru BRZ is miles apart from its relative in many ways. The BRZ is rear-wheel-drive instead of all-wheel-drive; its boxer engine is naturally aspirated, instead of turbocharged; it has two doors instead of four; and it wears the sleek lines of a traditional sports car. One thing they do share, however: They're both fun, cheap cars.
The 2.0-liter flat-four mounted under the BRZ's long hood only makes 205 horsepower (200 in automatic models), and without turbos, extracting that power requires working the engine a little harder than some of the other cars on this list. (Pro tip: The six-speed manual is far better than the six-speed automatic for this.) Nevertheless, once the BRZ gets moving, it reveals itself as one of the most delightful dancers in the modern automotive realm. And if you feel the need to make this sports car dance a little more freely, a new Performance Pack brings even more fun to the party.
Mazda MX-5
Mazda
Technically known as the Mazda MX-5 Miata, this little sports car has been winning over sports car lovers since 1989 with its infectious character. It may rarely be the fastest car in the room, but with its nimble balance, delicate controls, and open roof, it's one of the best sports cars at any price. The fourth-generation model may pack just 155 hp, but with a curb weight of around 2, 400 pounds, that's more than enough ponies to entertain even the most aggressive driver.
While the six-speed manual gearbox is the obvious choice for true roadster fans, the six-speed automatic serves the Miata well enough. Even the base model of this cheap sports car come with LED headlights, Bluetooth, and cruise control; higher-spec versions add on touchscreen infotainment systems, navigation, and automatic climate control. And for 2017, the MX-5 now comes in a sleek retractable hard top version, the Miata RF.
Volkswagen GTI
Volkswagen
The VW GTI may not be the sexiest car on this list, but it strikes a balance between performance and practicality that few, if any, cheap cars can match. A turbocharged 2.0-liter inline-four making 210 to 220 hp provides power to the front wheels, while in the rear, this Volkswagen's boxy shape means the hatchback offers nearly 23 cubic feet of space—far more than any car on this list. And compared to many cheap cars, the GTI—like the Golf it's based on—is built like a Panzer tank.
While the GTI can be specced up with fancy features like leather trim, a power driver's seat, and touchscreen infotainment, the basic models come with everything you need to extract plenty of driving fun from this cheap sports car. Plus, this fast car's plaid cloth seats have a style all their own.
Fiat 124 Spider
Fiat
Take the Mazda MX-5 Miata, substitute its naturally-aspirated engine for a zippy 1.4-liter turbocharged four-cylinder making 160 horsepower (or 164, in the zippier Abarth version), and give it two scoops of Italian flair, and you've got the Fiat 124 Spider. Made by Mazda in Japan for Fiat, the 124 Spider's is still every bit as charismatic and outgoing as you'd expect from a sports car that hails from the same land as Maserati and Alfa Romeo. (Both of which, technically speaking, are its corporate cousins at Fiat-Chrysler Automobiles.)
Being based on the Miata's bones means the 124 Spider has much of the same joie de vivre as its brother from another mother. With its torquey turbocharged power heading to the rear wheels through a six-speed manual or automatic transmission. And while much of the interior layout and options list is shared with the Mazda, the Fiat's insides come with an extra dose of style that helps put some breathing room between it and its cheap sports car sibling.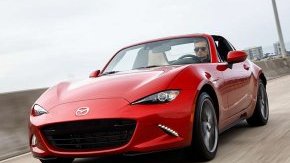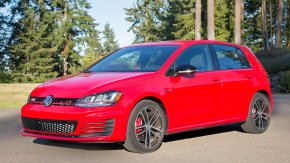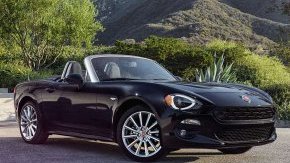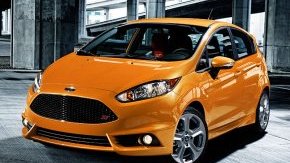 Source: www.thedrive.com