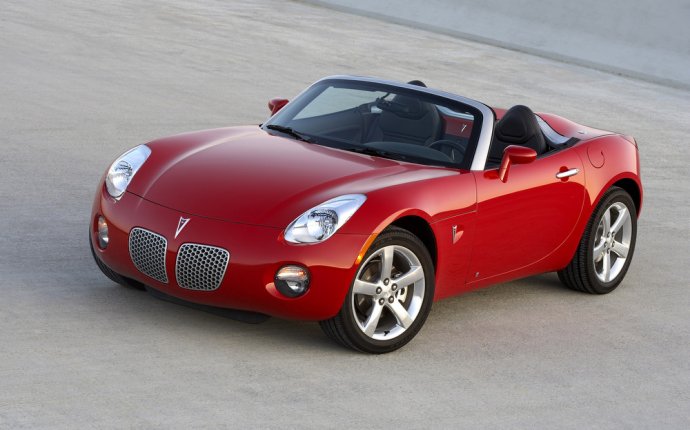 Sports Cars Convertibles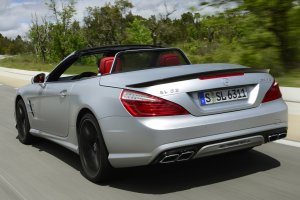 ADDITIONAL MODEL INFORMATION
Summer's nearly upon us, and that can only mean one thing: It's time to shop for used affordable convertibles. Hey, there's no shame in that. The economy's still a little shaky, so we can't all spring for the Ferrari 458 Spider of our dreams just yet. Fortunately, AutoTrader's used marketplace is overflowing with great deals on some pretty awesome pre-owned drop-tops. We sat down and debated their merits, and here are the top five. They're all a pleasure to pilot, and you'll be amazed by what some of them are going for these days.
1. Mercedes-Benz SL-Class
The iconic is shockingly affordable if you pick the right years. Want a real classic? Consider the R107 (1972-1989), a Hollywood icon of the '70s and '80s that sells for Corolla money right now - or less. We've seen well-kept specimens with under 100, 000 miles for $10, 000 to $15, 000, and the relative mechanical simplicity of these cars tends to keep maintenance costs down - especially if you've got an experienced German mechanic nearby.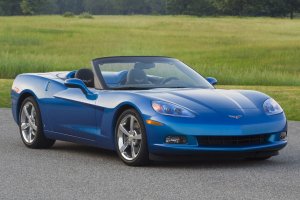 As for newer models, the subsequent R129 SL (1990-2002) can be even cheaper than its predecessor, and it has a reputation for longevity, if properly maintained. It's also much more modern, with familiar perks such as a full-power convertible top and even a Bose stereo in most models. Avoid neglected examples, however, and be very cautious with the SL600's mighty V12 engine. It will seduce you and then quite likely bankrupt you, so we advise sticking with the SL320's proven 6-cylinder engines or the SL500's robust 5.0-liter V8s.
You probably won't find many used examples of the current SL for sale, especially the brutally powerful SL63 AMG shown above. However, if you can do with a little less power, you can pick up a 2011 SL550 for around $60, 000. A bargain considering a new SL has a starting price near $105, 000.
2. Chevrolet Corvette
It's a cinch to find low-mileage C5 (1997-2004) Corvette convertibles for $15, 000 to $20, 000. And when you think about it, that's a whole lot of car for the money. The 5.7-liter LS1 V8 under the hood makes about 350 horsepower, and with the Corvette's long performance heritage, you know it will hold the road. Plus, there are no exotic parts involved here, just good old-fashioned American iron, which means more money in your pocket to spend on aftermarket exhausts and such.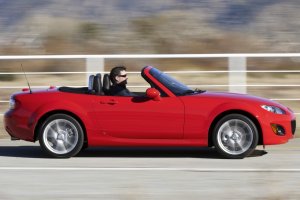 There's not really a "bad year" for the C5 Corvette, so our advice is to find the newest, lowest-mileage specimen you can and buy with confidence. Keep an eye on your speed, though, as the local constabulary is probably as aware of the 'Vette's formidable capabilities as you are.
Also, Chevrolet has done an amazing job letting everyone know that an all new Corvette is on its way for 2014. It'll be awhile before those show up used, but start checking out low mileage 'Vettes that are just a year or so old. Skip the ZR1 and you can get world class performance for about the same price as a loaded Toyota Highlander.
3. Mazda MX-5 Miata
Suppose you're a little leery of buying a car that's 10, 15, even 20 years old. We get it. No matter how well the previous owner cared for the car, parts are going to wear out - and when you're dealing with cars that cost a lot of money new, they can cost a lot to fix, as well.
So here's your solution: Buy a Miata. Since Mazda's legendary sports car isn't that expensive to start with, you can get one that's virtually new in terms of mileage, and pretty new in terms of model years, too, for $15, 000 to $20, 000. A quick AutoTrader search turned up a 2008 MX-5 Grand Touring, for example, with 11, 000 miles for just , 995. That's largely the same car that sells new today for close to , 000 - and it's a Mazda, so upkeep shouldn't be much of an issue. If you don't mind higher miles and/or older models, by the way, you'll find great specimens in the neighborhood of , 000, and in some cases much less.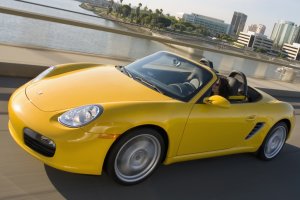 4. Porsche Boxster
The upside of owning a Boxster is obvious: Porsche's mid-engine roadster is one of the most fun-to-drive convertibles ever built, and it's part of a long line of precision-engineered sports cars from the famed German brand. It's also super-affordable by Porsche standards, with well-kept first-generation 986 Boxsters (1996-2004) available for around $10, 000; for example, we found a nice 1999 model with 83, 100 miles for $9, 990. When you fire up that flat-6 engine for the first time, trust us, you'll understand the whole Porsche mystique. It's incredible that you can get so much car for so little.
OK, now for the bad news: Being a mid-engine car, the Boxster doesn't have a hood that you can pop to get at the engine. That plus Porsche's notoriously expensive parts and labor means you should probably leave room in your budget for a "maintenance fund" in case things go wrong. But when you're buying in for so little, that's a precaution you can hopefully afford - and to be fair to Porsche, the 986 Boxster is reportedly quite robust if maintained properly.
Look for a 2011 Boxster if you want new car reliability with just a slight discount.
5. Mitsubishi Eclipse
Remember when the Eclipse was one of the coolest convertibles on the block? Those days are long gone, of course, and the Eclipse isn't even made anymore. (Mitsubishi discontinued production after the 2012 model year .)
Source: www.autotrader.com