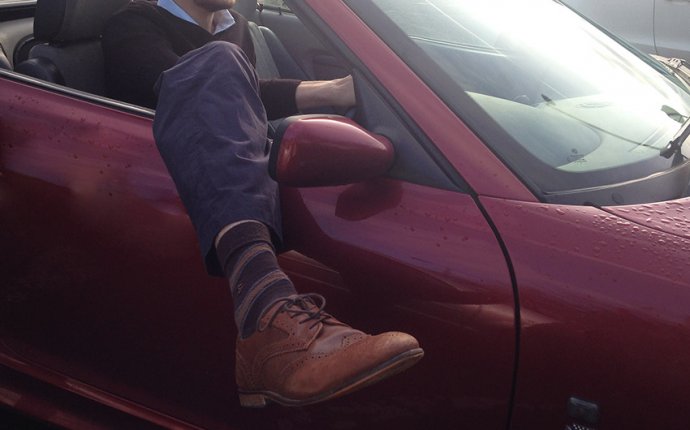 Sports Cars for Tall People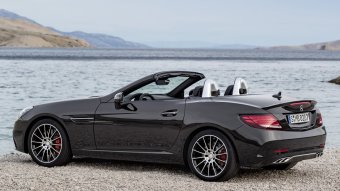 I'm a convertible guy. That Boxster vs. Cayman argument you always have with your friends? Yep, I'm firmly on Team Boxster (feel free to subsequently up- or downgrade me in your personal estimation as you see fit).
My reasons are mostly aesthetic, but a little bit practical, too. It's true that I just love the feeling of an open-topped car, which immerses me not only in my surroundings at the time, but also the driving experience. But I'm also really really tall – six-feet, five-inches tall, to be exact (or 196 centimeters, for my metric friends). Headroom can be challenging, especially in cars – like sporting coupes – that are fun to drive. Not the case with a convertible, as long as the weather cooperates.
We have a Mercedes-AMG SLC43 in the office this week. Driving it home, I was reminded that, even with infinite headroom, space in convertibles can be an issue for tall and/or wide drivers. That lead me to mentally checking down all of the most recent convertibles I'd driven for feeling of overall roominess – not that easy a task.
So, why not measure it?
There are really three standard interior measurements that are key to understanding how much space a large driver will have behind the wheel of a convertible: leg-, hip-, and shoulder-room. A formula ranking those measurements seemed like a reasonable place to start, to determine which convertibles were better for sizable people.
Legroom is the most obvious for tall guys; not only does it allow for the length of leg, but having more of it typically means there's more seat-recline angle available, meaning in turn a better ability to scooch down below the top of the windshield. (You five-foot-seven guys have no idea how easy you have it.)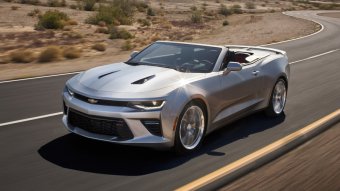 Measurements for hips and shoulders are good indicators for the width of the driver's space, obviously. That helps folks that are larger overall to not feel hemmed in. As I started looking at specs, however, it became apparent that shoulder room is regularly reported, while hip room is not. Too bad, but as the two data points do overlap somewhat, I choose to press on with just shoulder room.
The list of convertibles was therefore narrowed to (1) cars on sale in the U.S. right now (2016 and 2017 model years), (2) cars with available data for hip- and legroom, and (3) the most inexpensive variant of each model, where multiples existed. That third point was just to sate my own curiosity, more than scientific – if you filter the list for affordability, does it change the results?
Here are the top ten roomiest convertibles, according to my formula, and not accounting for price:
Okay, so the first two aren't that big a surprise for me. I've spent a lot of time complaining about visibility issues with the Camaro coupe, sure, but the car has never seemed to lack for room in which to find a comfortable seating position, and encompass my gangly limbs. Similarly, the posh SL and 6 Series have always seemed capacious.
But the 370Z and Corvette are slightly baffling. I've double checked the numbers, and they don't lie. For example, the average amount of shoulder room on my list is 53.8 inches, with 42.3 the average for legroom. The Z beats those handily with 54.4 / 42.9, and the Vette crushes them at 55.2 / 43.0. I'll eat a lighter lunch the next time I drive either, and recheck my assumptions.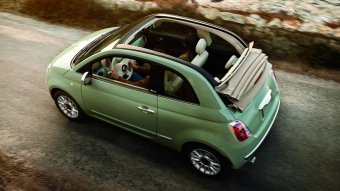 Bear in mind that the list of cars I'm using – 28 models strong – isn't complete. I know, for instance, that the Mercedes S-Class Convertible has more shoulder room than anything I charted – over 60 inches. But with no figures available for legroom, I couldn't properly place it. Other logical choices like the Porsche 911 didn't have the required data, either.
So, which are the worst/smallest convertibles on my list of 28? See if you can guess the bottom five before glancing down… got your picks? Okay, look:
28. Fiat 500c
27. Smart ForTwo
26. Mini Convertible
25. Audi A5 Cabriolet
24. Alfa Romeo 4C Spider
Not super surprising, here. I will admit that the 4C seems like it should be worse than the A5, and it does have less raw space. But because I used ranks, not simply raw figures, the A5 is a spot below it. Big picture: both are smallish cabins for biggish dudes like me.
What happens when you involve prices as a third ranking factor? Convertibles are expensive; the average price of the cars on this list (and these are the lowest-priced variants, remember) is almost $68, 000. But as you might guess, our two space stars are well below that threshold to start with, so…
Ford Mustang
Chevrolet Camaro
Jaguar F-Type
Chevrolet Corvette
Nissan 370Z Roadster
And now things start to snap into real focus. Mustang, Camaro, Miata, and Wrangler: the convertibles that sell in the biggest numbers are also kings of this data set. Why? Of course it makes sense that cars that are affordable, fun to drive, and easy to live with (a.k.a. spacious) end up in a lot of garages.
Source: www.motor1.com