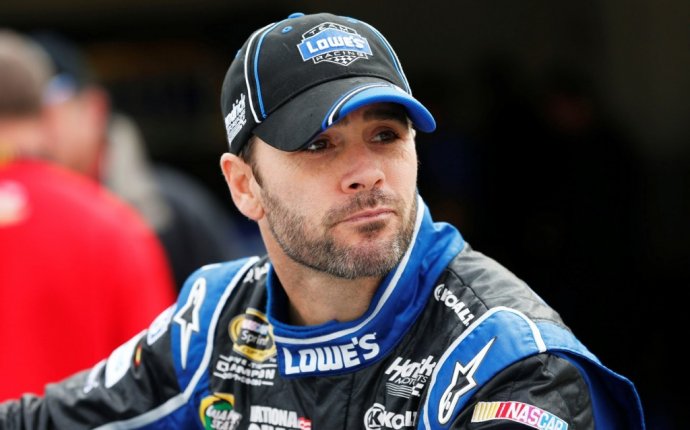 Lowes Race Car Driver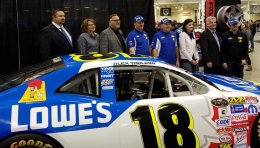 From left, NASCAR International Liason Joe Balash, NASCAR Pinty's Series director Cherie Putnam, Pinty's Senior Vice President Tony Spiteri, team owner Colin Livingston, car owner Scott Steckly, vice president for EpiPen brand at Pfizer Kerri Elkas, CEO of Lowe's Canada Sylvain Prud'homme and driver Alex Tagliani. Tim Southers/Motorsports.com
Joins EpiPen On No. 18 For Pinty's Series Title Run
TORONTO – In one of NASCAR Canada's biggest sponsorship announcements, Tagliani Autosport, in conjunction with 22 Racing, revealed Saturday that it had secured a major sponsorship from home improvement giant, Lowe's Canada, for its 2017 NASCAR Pinty's Series season.
At the Toronto Motorama Custom Car & Motorsport Show press conference, Tagliani Autosport unveiled the #18 racecar. Lowe's Canada joins long-time sponsor EpiPen, as a major contributor to driver Alex Tagliani's effort in the Canadian series.
Tagliani's No. 18 will also be sponsored by St-Hubert, Quebec's largest rotisserie restaurant chain founded in 1951. St-Hubert is also a perfect fit in this package as it has already entered EpiPen kits into their restaurants, showing how much the brand cares about their patrons and those also with food allergies. Tagliani was proud to showcase his brand new car and share his enthusiasm for the upcoming season.
"I feel fortunate to unveil this car. Our partnering sponsors are a great fit for me personally, " Tagliani said. "I have been the brand ambassador for EpiPen since 2013 and since then we have successfully promoted food allergy awareness using the motorsports platform. It suits me well to have St-Hubert join our team. It's just great. The whole family loves St-Hubert, and knowing how much my wife enjoys her chicken, it's a perfect fit!
"I am very excited about our newest sponsor, Lowe's Canada. As someone who really enjoys home renovation and construction, carrying the Lowe's logo is a huge honour for me. It's no secret that I spend as much time as I can in Lowe's and can often be found there while my wife is doing the groceries! It's not every day that you can find such a personal connection with the brands you represent. I can't wait to start interacting with our new fans, customers and Lowe's employees across Canada."
Joining Alex Tagliani and Team owner Colin Livingston, car owner Scott Steckly, Joe Balash, NASCAR International Liaison, and Tony Spiteri, Pinty's Senior Vice President, at the Toronto Motorama Show unveiling, was Sylvain Prud'homme, President and CEO of Lowe's Canada.
"We are very proud to support Alex Tagliani, a driver who holds an exceptional track record in the racing world and who shares the same values as Lowe's Canada in terms of excellence and integrity, " said Mr. Prud'homme. "We look forward to a very exciting NASCAR season with Alex and his entire team!"
St-Hubert was quick to seize the opportunity to associate with Alex Tagliani who possesses many of the same values as the organization, especially when it comes to their common passion for excellence and performance. Much like Alex, St-Hubert is a fan of speed, and with its fleet of 500 cars, several of which are electric, the rotisserie chain has been guaranteeing fast delivery service since 1952. And just like St-Hubert, Alex Tagliani is from Montreal, and both share a strong commitment to promoting awareness of food allergies.
"We are proud to be able to work with someone like Alex Tagliani, a man who has such dedication to his sport and is a very experienced athlete recognized for his spectacular performances. We hope he shares many victories with his team as well as ours, and celebrates with a delicious meal at one of our 123 rotisseries, " stated Richard Scofield, President of Rôtisseries St-Hubert.
Mrs. Kerri Elkas from EpiPen, who spoke on behalf of Simon Carson, Senior Brand Manager, was very pleased with their partnership with its star driver.
"EpiPen is proud to have Alex as our brand ambassador. His profession as a racer is full of risks, but living with severe food allergies could be even riskier for Alex. Over the past four years our partnership has seen us reach out to the community with a mutual goal of raising awareness among those with food allergies. With these great new partners joining our program, we look forward to more success in the future."
Tagliani returned to the podium to conclude the presentation.
"The partnerships carried on the No. 18 EpiPen-Lowe's-St Hubert car will be great for NASCAR in Canada, for Pinty's and for the sport in general. Tagliani Autosport, in collaboration with 22 Racing, have worked hard to make the No. 18 car a crowd pleaser and we hope fans will be able to watch it battle for the lead many times this season. We share a passion for reaching out to fans, and both our team and our sponsors can't wait for the season opener in May!" concluded the Canadian Motorsport Hall of Fame inductee.
Busy schedule for Tag in the NPS
Thirteen races are on tap for the 2017 season. The two opening rounds of the 2017 NASCAR Pinty's Series will be held in Ontario, the first on the May 21 Victoria Day weekend at the Canadian Tire Motorsport Park road course, followed by the June 3 oval race at Delaware Speedway. The NPS kicks off its Quebec rounds with an oval race on June 17 at Autodrome Chaudière, followed by three weeks off before tackling Circuit ICAR on July 8. The NPS biggest show of the year comes the following Saturday, July 15 at the Indy Toronto held on the street course of the Toronto's Exhibition Place. The series will then start its Western swing with a double-header at Wyant Group Raceway in Saskatoon on Wednesday evening, July 26, followed three days later with its annual stop at Edmonton International Raceway.
Source: hometracks.nascar.com