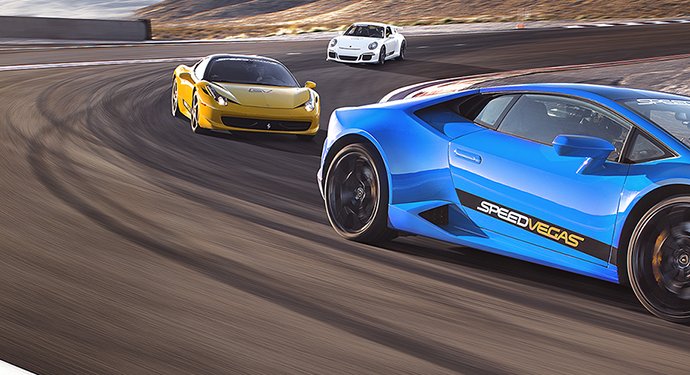 Las Vegas Sports Car Racing
Vehicles are available to drivers over the age of 21 with clean driving records (no major moving violations, DUI convictions, or similar infractions). Unfortunately, we cannot rent any vehicles to drivers under the age of 21.
All renters must be physically present at the start of the rental. Unfortunately we do not allow 3rd parties to pick up vehicles and our employees must physically hand the keys over to the person who will be driving.
Insurance
All renters must carry some form of insurance to cover damages to the vehicle in the event of an accident. You've got several options:
The easiest option is if you carry an insurance policy on a personal vehicle that you own or lease. We will verify with your insurer that your policy is active.
Customers from NY are required to maintain only liability insurance.
Customers from any other state are required to maintain full-coverage insurance (liability, comprehensive, and collision).
The good news is that it does not matter what you drive personally - as long as you have insurance in good standing, your carrier will cover damages to our cars (think of it as if you were driving down the road and caused an accident with a guy in a Ferrari - your insurance will cover the damages even if you're driving a VW).
Another options is if you have an American Express card - they offer a program called 'Premium Car Rental Protection'. This is available directly from American Express and provides coverage for your GDC rental vehicle. This is a great option because it can be purchased in addition to your regular insurance policy and provides an extra layer of protection.
If neither of the above apply, there are some 3rd-party companies that provide damage waiver products. Please inquire for details on these options.
International Renters
Vehicles are available to international visitors with a valid passport and driver's license from their home country. We can arrange for insurance coverage for those international visitors renting for a minimum of two days. Please note that international renters who do not have their own insurance coverage will be subject to a higher security deposit ($5k - $15k, depending on vehicle).
MVR
We reserve the right to run an MVR (Motor Vehicle Record) report on all renters prior to the start of the rental in order to verify a valid Driver's License.
Additional Drivers
Additional drivers may be listed on your Rental Agreement at no additional charge. Each additional driver must be present at the time of delivery, must submit a driver's license in advance, and will be subject to the same age, licensing and driving-record restrictions as the primary renter.
Delivery / Pick-up
You may choose to pick up / return your vehicle to our office or have it delivered directly to your home, office, hotel, airport, or other location. We provide storage of your vehicle at our locations at no charge. Door-to-door delivery is available for a small additional fee depending on the distance traveled.
Please note: All pick-up & delivery arrangements must be confirmed at least 24 hours in advance in order to guarantee on-time service. Any changes to pick-up or delivery times/locations with less than 24 hours notice may incur an additional transportation fee.
(In other words: we will do our absolute best to get you the vehicle when and where you want it, however if you change your mind after we've scheduled our guys, we may charge you for it).
Return Times
We are very flexible about vehicle return times - i.e. we're not sticklers about a 2 day rental being exactly 48 hours. But once we have made a return appointment, we need to stick to it. There will be a 1-hour grace period with your scheduled return time, after which you may be subject to additional daily rental fees.
(Our dedicated delivery team works very hard and very long hours 7 days a week, and if one of them is waiting around for 2, 3, or 4+ hours because of a missed return appointment, it throws off the entire schedule.)
Damage Deposit
All renters must leave a damage deposit in the form of a credit card authorization, cashier's check, or cash. Any damage found on the vehicle upon return will be billed against this deposit. The amount of this deposit will vary depending on the vehicle being rented and your type of insurance, but typically varies between $2500 - $15k.
This deposit is fully refundable following the completion of the rental. If you are using an American Express card for the deposit, it is run as an "authorization only" (no actual charge). If you are using a Visa, Mastercard or Discover card, this deposit is run as a charge which is then reversed following the completion of the rental.
Cancellation Policy
When you make a reservation, we will charge your credit card immediately for the full cost of the rental.
Because we have a limited supply of vehicles to offer, we pack the schedule very tightly. We offer a 24-hour grace period after you make your reservation to make changes or cancel (unless the rental is within 7 days), after which there will be a cancellation fee of 50% of the total rental cost or $500 (whichever is greater).
If you cancel or reschedule less than 7 days before your rental (or are a no-show at the time of rental), you will be charged a cancellation fee of 100% of the total rental cost.
Reservations made for the Dream Car Tour and Dream Car Sprint are non-refundable regardless of booking time, however they are fully transferable, so we gladly allow you to designate a replacement driver if you cannot make it.
Please understand that there are no exceptions to this cancellation policy. We don't mean to sound heartless, but you would be amazed at the number of last-minute deaths in the family, serious illnesses, sick pets, sick mother-in-laws, rabid dogs, and falling skies that people tell us about. (One guy's father has died three times in the past year. Bad karma.)
Weather Policy
Unfortunately we cannot control the weather (as much as we have tried - but that darn Vulcan Weather Satellite just doesn't work like it used to). That means, as per the cancellation policy above, we cannot offer refunds or rescheduling if the skies decide not to play nice.
However, if there is a weather condition on a particular day that might make driving dangerous (i.e. snow, ice, hurricane, tornado, alien attack, etc.) and you do not actually use your vehicle on that day, we may (at our discretion) offer you an extension on your rental or credit on a future rental.
For example, if you rent a car Fri - Sun, it snows on Sun, and the car remains parked in your garage, you may be able to extend your rental through Monday for no additional charge. If you've got a question about this policy, just give us a call and we'll work with you.
Source: www.gothamdreamcars.com