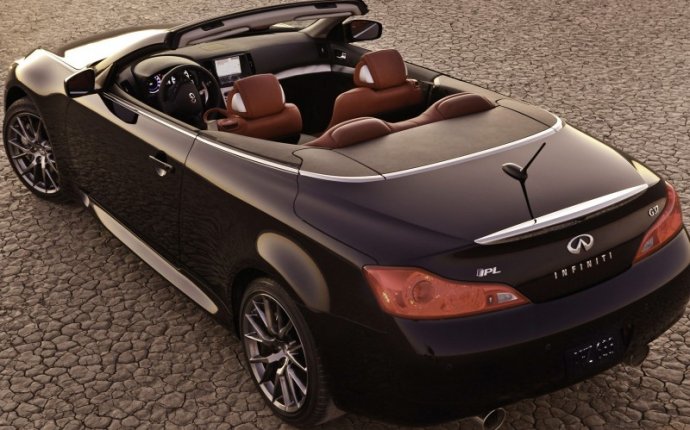 INFINITI Sports Car Convertible
Infiniti was adrift for more than a decade, trying to establish itself in a crowded luxury scene filled with established players that enjoyed years of pedigree and consumer recognition. With a lineup of staid sedans and rebadged Nissan SUVs, there were few products to help the brand get noticed. That all changed with the G, a car that established Infiniti's current penchant for creating cars that are fun to drive, packed with high-tech features and priced lower than their competitors.
In addition to the G sedan and coupe, Infiniti saw fit to cover all the market's bases and eventually brought out a convertible version. Blessed with a retractable-hardtop design, the G convertible offers the quiet comfort of a coupe when the top is up and the exhilaration of a convertible when it's automatically stowed beneath the trunk lid. But there are a couple of serious penalties paid for this luxury. Besides being about 450 pounds heavier than the coupe, its backseat is nearly useless with the top raised and the trunk is nearly useless with it lowered. Because of these practical concerns, we don't think quite as highly of the G convertible as we do of its coupe and sedan siblings.
Used Infiniti G Convertible Models
The Infiniti G convertible was produced from 2009 through 2013. It features a retractable hardtop roof, seats four people and was offered as a single G37 model. Trim levels initially consisted of base and Sport, which were later joined by the IPL (Infiniti Performance Line) for 2013.
All G convertibles are powered by a 3.7-liter V6. In the base and Sport trims it sends either 325 or 330 horsepower (for '13) to the rear wheels. In the IPL, it was tweaked to crank out 343 hp. The base G and IPL came with a seven-speed automatic transmission featuring manual paddle-shift control and rev-matched downshifts. The Sport came exclusively with a six-speed manual transmission.
Standard feature highlights included xenon headlights, keyless ignition/entry, automatic climate control, leather upholstery, heated front seats, a rearview camera, Bluetooth and an iPod interface. Besides its bigger wheels and brakes, summer tires, quicker steering and sport seats, the G37 Sport also included parking sensors, a power-adjustable tilt-and-telescoping steering wheel, a navigation system, Bluetooth phone and audio connectivity and a Bose stereo. In addition to its more powerful engine, the loaded IPL featured a sport exhaust, more aggressive suspension tuning and aerodynamic styling enhancements.
The Infiniti G Convertible offers user-friendly controls, excellent build quality and a handsome design - the latter highlighted by such items as the car's leather-accented magnesium paddle shifters and aluminum (or optional wood) accents. The Bose audio system, complete with seat-mounted speakers, is excellent.
The front seats are comfortable and well-bolstered, while the available sport-styled seats offer even more aggressive bolstering (though they may be a bit too snug for larger drivers). The backseat is essentially useless for normal-sized adults, as is the G's trunk. When the hardtop is lowered, cargo capacity shrinks to a minuscule 2 cubic feet, which should be enough space for a tissue box and not much more.
In reviews, we found that the G Convertible serves up thrilling acceleration, though we weren't enamored with the engine's somewhat coarse noises at higher engine speeds. On the move, this well-sorted Infiniti attacks curves with aggression and precision, yet it remains poised and compliant when driven over broken pavement. The only real downside is the car's weight, as it saps some of the car's potential compared to the lighter G Coupe, or Nissan's Z Roadster.
Source: www.edmunds.com