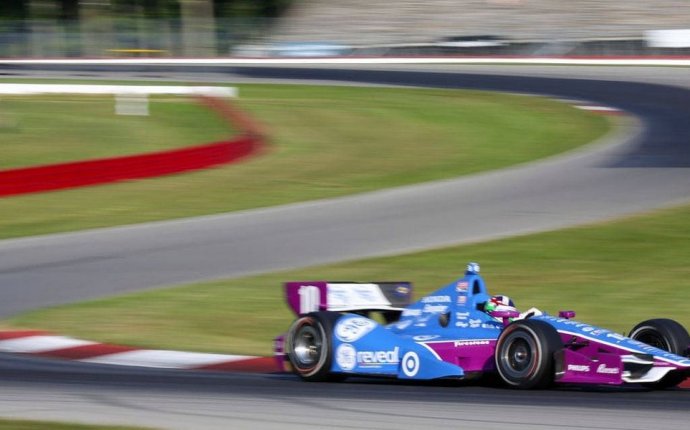 How to Get into Indy Car Racing?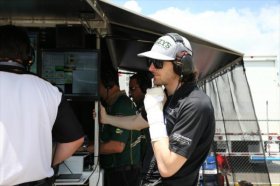 The Verizon IndyCar Series technically reached its halfway point of the 2017 season halfway through last Saturday night's Rainguard Water Sealers 600. At the half-distance point of the ninth race in a 17-race season, that marked half the races down and half to go.
By the end of the ninth race of the year though, the repair bills and the question marks about this season continued to add up. The only constant in this most goofy of IndyCar seasons is that there is no constant, and no rhythm, at all.
DIXON LEADS POINTS, BUT NO WINS, AND A LOT OF BIZARRE MOMENTS
Nothing has felt normal about Scott Dixon's 2017 campaign, and it all goes back to when he premiered at the preseason test in Phoenix wearing a blank, white firesuit and was driving a blank, No. 9 Honda for Chip Ganassi Racing after being in a red Target car each of the past 15 years.
At the halfway point in the year, Dixon has had four podiums, three primary sponsors (GE LED, NTT Data, Camping World), two liveries, one pole, one alleged robbery at gunpoint at a Taco Bell, one hellacious airborne accident that left him limping, one crash where he got taken out through no fault of his own and exactly zero wins… and he leads the points. All this in a year where Ganassi's switch to Honda was supposed to slow their roll as a championship contender and when Dixon's lone knock throughout his career is that he's a slow starter renowned as much for his heroic second-half comebacks.
Nothing's gone right for Dixon from a results standpoint this year and that's what makes it crazy to think he's in the points lead. The usually unflappable "Iceman" was more pissed off by Takuma Sato taking him out in Texas than by either traumatic event in Indianapolis.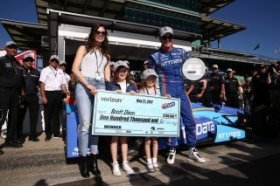 If Dixon's 2017 season doesn't encapsulate IndyCar's "year of the weird" in a nutshell, nothing will.
PENSKE'S PERPLEXING BARBER SHOP QUARTET
Ordinarily by now we'd have a sense Team Penske would have an authoritative, de facto number one by this point in the year. Naturally, because 2017 is such a weird year, we don't.
Will Power is the only member with two wins but they've come in dominant fashion at the Indianapolis road course – which you'd expect – and on Texas' 1.5-mile oval – which you wouldn't. Power's relaxed, calmer state of mind has been fascinating to witness this year because in the past he's been wound up. Now his responsibility as a dad and husband to wife Liz has seemingly taken precedence, which is good. He had a miserable start to the year with a mechanical gremlin at St. Pete, contact with Charlie Kimball at the start of Long Beach, a puncture that cost him the Barber win, and also got taken out at the Indianapolis 500. Still, he seems poised to contend down the stretch now fifth in points.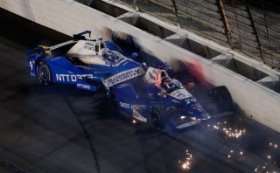 Defending champion Simon Pagenaud also typifies the "year of the weird." He had no business coming second at St. Pete or fifth at Long Beach after nightmare qualifying sessions, yet he did. He dominated Phoenix, an oval, for his first oval win. He was nowhere at the Indianapolis 500… yet drove so smart at Texas to get third. He's second in points, but you wouldn't know it by how under-the-radar he's been, even though he's raced well this year.
Newcomer Josef Newgarden? He's made his impact, too, with a lack of rhythm. Often Penske's fastest in-race driver, Newgarden inherited the Barber win, has raced better on the street courses where he's struggled in the past (finishes of eighth, third, fourth and second represent his best street course season to date), and made two mistakes on ovals that have left his crew with wrecked cars. All the while, he's been trying to integrate into the Penske team, has moved to Charlotte, and still keep up his level of humor. He's balancing a lot.
And until Texas, it was fourth driver Helio Castroneves, who hadn't won yet, who led the team from a points standpoint. Yet his lack of rhythm also exists. A consistent first five races saw him end between fourth and ninth in each, but poles at both West Coast races in Long Beach and Phoenix didn't provide an end to his winless drought. He drove underneath a flying Dixon at Indy, and drove a wrecked, down on power car to within a fraction of his fourth Indy 500 win. It was one of the drives of his 20-year career, but one which came up short. Then losing the pole on a penalty in Detroit produced what seemed to be an angry Helio there – mistakes followed, as did a pair of poor results. A heavy crash at Texas has likely left him shaken up, as well. Fourth in points now, he needs to find the mental strength to overcome a series of frustrating results.
This doesn't even mention Juan Pablo Montoya, who appeared to get in the heads of some of his teammates with an under-the-radar yet solid month of May in the team's fifth car. Despite a fueling issue, Montoya recovered to sixth in the race. He proved his point, that he remains perhaps IndyCar's best driver without a full-time seat.
SATO'S RE-EMERGENCE VERSUS ANDRETTI AUTOSPORT'S MISSED CHANCES
The Takuma Sato that has emerged in 2017 is a welcome variance from the Sato that often permeated his previous seven seasons in IndyCar. Fast, but not fragile, Sato's "no attack, no chance" style only appeared when it needed to – and paid dividends. In a car that afforded him a proper opportunity to showcase his talent at Andretti Autosport, Sato played the game perfectly at Indy all month, made the moves on Max Chilton, Helio Castroneves and Ed Jones when he needed to, and held off Castroneves for a popular victory in the 101st Indianapolis 500. His follow-up weekend at Detroit was huge too, and kept him in title contention.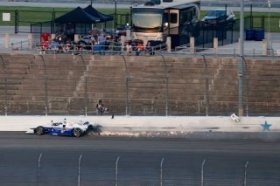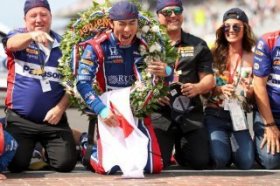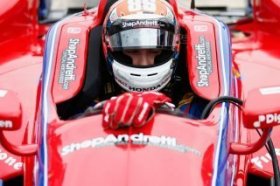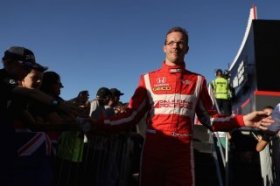 Source: motorsports.nbcsports.com