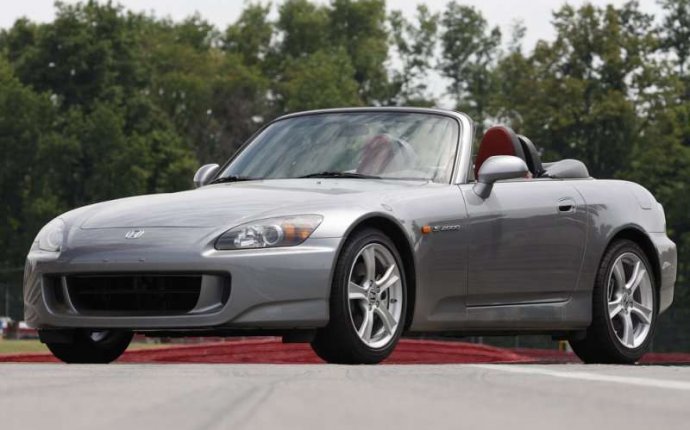 Honda Convertible Sports Car
The Honda S2000 was a two-seat, rear-wheel-drive roadster produced from 2000-'09. It featured a high-performance, high-winding inline four-cylinder engine along with a superbly balanced chassis. The S2000 was the first sports car to roll out of a Honda factory since the tiny S500, S600 and S800 roadsters of the 1960s, and it ended up having one of the longest production runs of any modern car.
With minimalist cockpit comforts and a racetrack-ready suspension, the Honda S2000 was a pure sports car. More powerful than the less expensive Miata, yet not as pricey or luxurious as a Z4 or SLK, the S2000 occupied a niche within a niche. Quick and communicative steering, an ideal 49/51 weight distribution and an engine that loved to rev coupled with a slick six-speed gearbox promised a lot of fun for the serious driving enthusiast. Today, the S2000's reputation for reliability and reasonable resale values makes it a superb pre-owned choice.
Most Recent Honda S2000
There were two versions of the Honda S2000 roadster for its farewell 2009 model year, the standard version and the racetrack-oriented CR (for Club Racer). Notable hardware on both included a feisty 2.2-liter inline-4 with an 8, 200-rpm redline coupled to a short-throw six-speed manual gearbox. Without resorting to forced induction (turbo- or supercharging), this jewel of an engine utilized Honda's variable valve timing and lift system (VTEC) to squeeze 237 horsepower out of just 2.2 liters. No automatic transmission was available in any S2000.
Standard features on later iterations of the S2000 included a power-operated top with a glass rear window (with defroster), lightweight 17-inch wheels, leather seats, keyless entry, air-conditioning, an eight-speaker CD audio system, stability control and HID headlights. A lightweight (44 pounds) aluminum hardtop was optional on the standard car. The special CR version deleted the power top, A/C and stereo to reduce weight and added a removable hardtop, track-oriented suspension settings, a beefed-up structure for higher rigidity and more aerodynamic bodywork.
Debuting in 2000, the Honda S2000 started life with a 2.0-liter inline-4 that redlined at 9, 000 rpm. With 240 hp, it put out more horsepower per liter than any other naturally aspirated engine on the planet. Although it provided a thrilling ride when driven aggressively, our editors did find some faults. Among the more notable ones were a lack of low-end torque that made the S2000 a bit flat-footed around town, a sometimes persnickety shifter, a weak audio system and a plastic rear window.
Honda gradually made upgrades to the S2000. For 2002 the company amped up the radio, added a glass rear window with a defogger and smoothed out the short-throw shifter. Some styling changes took place as well, including chrome taillight rings, a new shift knob and a few pieces of well-placed silver trim in the cockpit. A lightweight aluminum hardtop became optional, a blessing (albeit a pricey one) for those in colder climes.
Several key improvements came about in 2004 that made the Honda S2000 a more viable choice as a daily driver. This is when the 2.2-liter engine debuted. Honda also added shorter gearing for the six-speed transmission's lower four gears, thus giving the S2000 more snap at lower engine speeds. Larger 17-inch tires (versus the previous 16s) were fitted, as were minor suspension tweaks designed to make the ultra-reactive S2000 more forgiving of less-than-expert drivers. 2008 was another notable year, as it saw the introduction of the CR version as well as a revised gauge cluster and claimed improvements in high-speed stability.
Any version of the Honda S2000 should speak loudly to the driving enthusiast. With its finely balanced chassis, quick and communicative steering, eager-to-rev engine and snick-snick shifter, the S2000 makes short work of twisty roads. The initial 2.0-liter engine is more thrilling for those who don't mind taking their engines to redline on a regular basis, but the trade-off is an edgy, tail-happy nature that Honda softened with the 2004 refresh. Even with all this performance potential, the S2000 retains strong Honda attributes such as sound ergonomics and comfortable, supportive seats with enough adjustments to accommodate short and tall pilots alike.
Source: www.edmunds.com