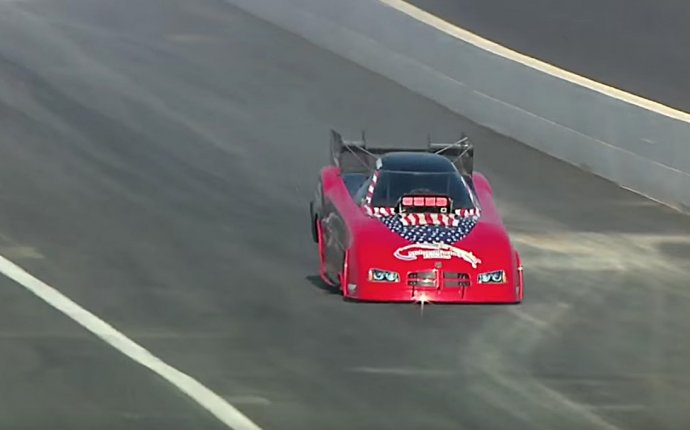 Funny Car Drag Racing Crash
When Antron Brown saw the video of fellow drag racer Ronnie Davis' crash at Rockingham Dragway nearly two weeks ago, he says two things immediately came to his mind.
First, Brown thought of Davis' family – daughters Michelle and Bridget, and longtime companion Micki Deering.
Then, the major question – what happened, and why?
"When you see it, you always wonder what the root cause of it was, " said Brown, who drives in the National Hot Rod Association's Top Fuel division for Don Schumacher Racing.
"You always want to know the 'why' … You want to know what happened and why so you, under similar circumstances, you can stop and prevent other (accidents) like that happening."
Safety – both preventing problems and protecting the driver and spectators in case something goes wrong – always has been at the forefront for NHRA teams.
However, with the NHRA Four-Wide Nationals this weekend at Concord's zMax Dragway, Davis' fatal wreck has drivers, crew chiefs, team owners and series officials thinking about the subject a little more.
Davis, of Suwanee, Ga., suffered fatal injuries when his Top Sportsman car – similar to the NHRA's Pro Stock and Pro Modified cars – wrecked during a Professional Drag Racers Association event April 9 at Rockingham.
Video replays showed that, just after completing a qualifying run, Davis' 1963 Corvette-bodied dragster turned hard right and crossed in front of fellow driver Mark Malcuit's Camaro. It then went airborne, flipping over the right-side wall and barrel-rolling several times.
Davis, 66, was transported to Moore County Regional Hospital in Pinehurst, then to UNC Medical Center in Chapel Hill, where he died from his injuries a day later. Also injured in the wreck was freelance journalist Ian Tocher, who was struck by Davis' car as it flipped.
"I've never seen a car pancake like that, " said Schumacher, also a former driver. "It went over the guard rail without touching it, and get thrown down like a pancake hitting the ground. It was a horrific impact.
"We need to learn from this, to look at the impact of this accident. I'm hoping there's some much better video – maybe some slow-motion stuff that I certainly haven't seen – that could give us some ideas of what steps could be taken to protect the lives of the drivers."
Everybody is paying attention
Even though Davis' fatal wreck came in a different series, and at a track the NHRA's pro divisions hadn't raced on since the late 1990s, the NHRA's teams – even the sanctioning body – is paying attention to the investigation.
The Professional Drag Racers Association is an NHRA-approved "alternative sanction organization, " according to PDRA President Bob Harris. The PDRA's rule book mirrors that of the NHRA, especially in the areas of car construction and required safety equipment, Harris said.
"My investigators have been over (Davis' car), the NHRA's been here and they've been over it … even the Richmond County (Sheriff's Office) investigators have been over it, " Harris said. "We didn't find anything broken on the car. The car had all the safety features on it, and they were all up to date. … There really wasn't a rhyme or reason to have that wreck. We can't see one thing that caused it."
Safety innovations
Schumacher, who raced and owned Funny Cars during the 1960s and early 1970s, was an early innovator in both performance and safety features, such as roof escape hatches.
When he became a team owner again during the late 1990s, he brought that same innovation back with him to what now is one of the NHRA's biggest racing operations, with seven full-time teams – three in Top Fuel and four in Funny Car.
"We're constantly looking at what we can do to make our vehicles safer for our drivers, " Schumacher said. "I'm confident in both the Funny Car and Top Fuel areas, that we have a safe enough chassis to take an impact like that (in Davis' wreck). But you never know what the outcome will be on the other side – how severe the stress and strain is on the driver's body, brain and everything else.
"We'll certainly look at whatever information comes from that, and transpose that information to what we do with our chassis and our cars to make them as safe as we can for our drivers, spectators and workers around the race track."
Brown – who has 39 Top Fuel victories and NHRA championships in 2012 and '15 – also would like to know what happened in Davis' wreck, but for a different reason.
"Something happened … (but) I don't know what happened, " Brown said. "If I knew, then I could actually understand. That's why it's one of the first things that comes into our minds – we want to know what happened, and why it happened.
"We've got to be able to grow from this, to make things better so it doesn't happen to someone else down the road."
The Schedule
Friday: Gates open at 9:30 a.m., with first sessions of pro qualifying at 3:45 p.m. Saturday: Gates open at 8:30 a.m., with first sessions of pro qualifying at 1:15 p.m. Sunday: Gates open at 9 a.m., with eliminations starting at noon.
Source: www.charlotteobserver.com