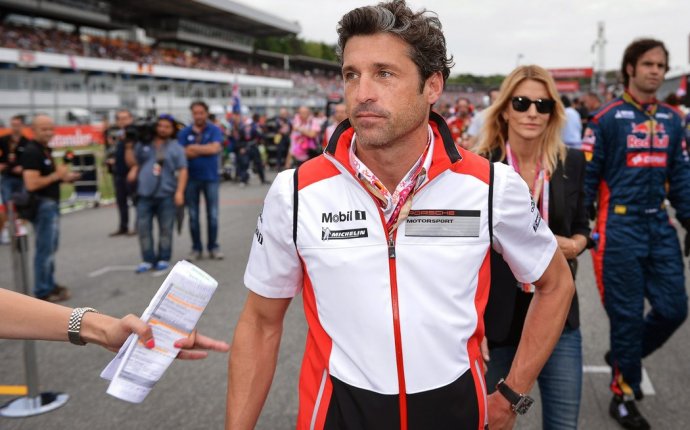 Actor Race Car Driver
For many celebrities, the pull of auto racing is irresistible. The adrenalin rush and allure of taking the checkered flag make it one of the most exciting sports in the world. Many actors and athletes are known for their love of fast cars, or have tried their hand at one of the many amateur celebrity racing events, but only a few have risen above the level of hobbyist and made a name for themselves in the sport. To excel in racing, it requires time, money, and talent. Plenty of famous people have the time and money, but only a few have had the talent to be taken seriously.
Auto racing is an extremely competitive and insular world, and a famous name has to work harder to be accepted in it. A celebrity driver isn't a celebrity on the track, they're just part of a team along with the support crew and other drivers hungry for a win. For many, this narrow focus and relative anonymity is what drew them to the sport – it allows them to escape all their outside pressures. However they came to racing, here are 10 celebrity drivers whose passion on the track earned them the respect of their fellow racers.
10. Rowan Atkinson
The British comedian most famous for his Mr. Bean character is also a serious car enthusiast. On top of famously owning (and crashing) a McLaren F1, and writing for a number of British car magazines, Atkinson is an accomplished racer. In the 1980s, he drove a mid-engined Renault 5 in the manufacturer's Turbo Cup racing series, and went on to compete in his Aston Martin at Silverstone in 2010. In 2014, he was involved in a head-on collision racing a vintage Ford Falcon Sprint at Goodwood. Luckily, he walked away unharmed.
9. Paul Walker
The late Paul Walker had a well-known passion for exotic cars, but he was also a talented driver on the track. The star of The Fast and the Furious series competed in the Redline Time Attack racing series with a modified BMW M3, and co-owned the Always Evolving speed shop and racing team, which still races today.
8. Walter Cronkite
Before his legacy was cemented as America's most trusted newsman, Walter Cronkite was an avid racing driver. In 1959, Cronkite took third place driving a Volvo PV444 at an endurance race in Lime Park, Conn. Later that year, he co-drove a Zagato-bodied Lancia Appia in the 12 hours of Sebring, where his team finished the race 40th overall.
7. Bruce Jenner
Before he became a source of tabloid fodder (and before he became a she and went by Caitlyn), Bruce Jenner had a successful post-Olympic career as a driver. He raced at the 24 Hours of Daytona and the 12 Hours of Sebring throughout the 1980s, winning his class and finishing fifth overall at the 1986 12 Hours of Sebring behind the wheel of a Roush-Ford. In 2013, he briefly returned to racing to compete in the Lamborghini Super Trofeo Series.
6. Gene Hackman
Oscar winner Gene Hackman caught the racing bug while filming The French Connection, where he did about 60% of the stunt driving in the iconic chase scene. By the late 1970s, he had built a reputation as one of the best celebrity racers in Hollywood. His racing peak was driving for legendary racer Dan Gurney's team in the 1983 24 Hours of Daytona.
5. James Garner
While filming the 1966 movie Grand Prix, racing legend Graham Hill told James Garner he was a good enough driver to professionally race. Garner took Hill's endorsement seriously, and became one of the most accomplished actor-drivers of his day. He founded the American International Racing team, immortalized in the documentary The Racing Scene, and famously drove a highly-modified Oldsmobile 442 in the 1969 Baja 1000 off-road race.
4. James Dean
Though he was a relative newcomer to racing, James Dean was a talented driver, and single-handedly created the actor-racer archetype. After competing in an MG and a Porsche Speedster, Dean was banned from racing by Warner Bros. until shooting wrapped for the film Giant. Once filming was completed, he turned his attention back to racing and bought a race-prepped Porsche 550 Spyder. Unfortunately, he would never race in it — Dean was killed driving the Porsche to its first race in Salinas, Calif. on September 30, 1955.
3. Patrick Dempsey
Few modern actors have had as much success in racing as Patrick Dempsey. The star best known for his role as Dr. Derek Shepherd in Grey's Anatomy has been a serious and committed racer for years. Owner of the Dempsey Racing team, he competes in race-prepped Porsche 911s, and has competed in the 24 Hours of LeMans, Rolex 24 at Daytona, and Vision Racing IndyCar Series among other races. In 2011, he took third place overall at the Rolex 24 at Daytona.
2. Steve McQueen
No other actor personifies car culture quite like Steve McQueen, who famously declared "I don't know if I'm an actor who races or a racer who acts." Throughout the 1950s and 1960s, McQueen raced a Lotus 11, Porsche Speedster, MGA, Cooper formula car, a Porsche 908, and a host of motorcycles while owning some of the most gorgeous road cars ever built.
Source: www.cheatsheet.com