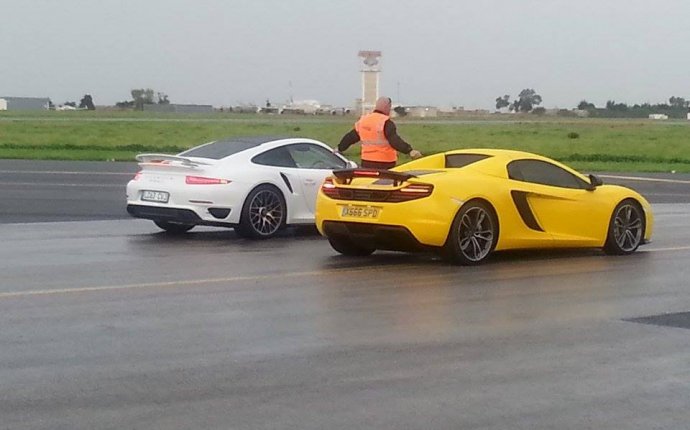 Super Car Drag Race
Perfect example of why a good driver is so important.
We were recently subjected to a particularly disappointing drag race involving a trio of Audis courtesy of Top Gear that inexplicably failed to include the always awesome Audi RS7. Thanks to PRonTheRoad, we can now see the beautiful beast in action against an equally drool-worthy vehicle in the shape of a blacked out Ferrari 458 Italia. The drag race took place at the Spring Event held at a small German airport commonly known as Weeze Airport, and as you will see from the video the Ferrari takes one hell of a beating.
With its 605-hp 4.0-liter twin-turbo V8 sending power to all four wheels, the gorgeous sedan can reach 62 mph from standstill in 3.7 seconds and is no slouch off the line.
The 458 Italia's naturally-aspirated V8 is one of the best-sounding engines ever made, and with 562 hp has less grunt than the Audi. It does, however, have a claimed 0-62 mph time of 3.0 seconds so we can only put this embarrassing defeat down to poor driving. If the cars were allowed to stretch their legs for a bit longer, the 458 would have easily passed the RS7 with its 210 mph top speed crushing the (limited) 155 mph top speed of the Audi. However, over this limited stretch of tarmac, the Audi crushed the Ferrari. Twice.
Source: www.carbuzz.com