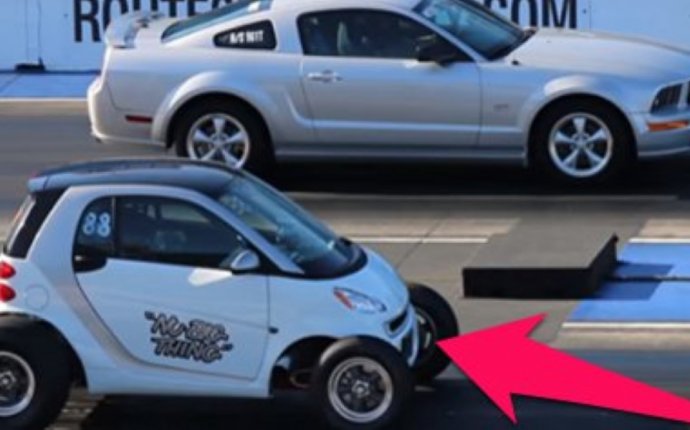 SMART Car Drag Race
That is not a typo. Someone really transplanted a big-block Chevy into a Smart Car, effectively stuffing the largest possible engine into the smallest possible car. Ain't hot rodding grand?
Just when you start to get bored with an endless stream of sensational headlines of cars built on tight deadlines and budget small-blocks that make 6-digit power numbers, a video of a BBC Smart Car comes along and surprises you. And you thought those endless cat videos were entertaining.
Now it is one thing to build a tube chassis car and put a fancy skin around it, see also CTS-V and Bentley Pro Mod. It is quite another to take a two-seat econobox then cut, chop, and weld until you've shoehorned a huge motor with the drivetrain and suspension to handle it. Notice the wheelie bars, slicks, and skinnies on this thing? This guy isn't messing around. We've seen lots of cool swaps over the years, but this might take the cake.
After its first few passes at No Limit Raceway in Morocco, Indiana, what's next for the big-block Chevy Smart Car? Well "Keith Pufahl" says more tuning. Best pass on the day was a 12.2, but he says it should run 10s. Though he admits for the money you could go a lot faster on another chassis, the goal was to become the first big-block Smart Car. Mission accomplished. We await more videos of 10-second passes, and (I'm just throwing it out there but…) a match race against the upside-down Camaro. I might be dreaming on that last one, but I say let's make it happen.
Source: www.superchevy.com