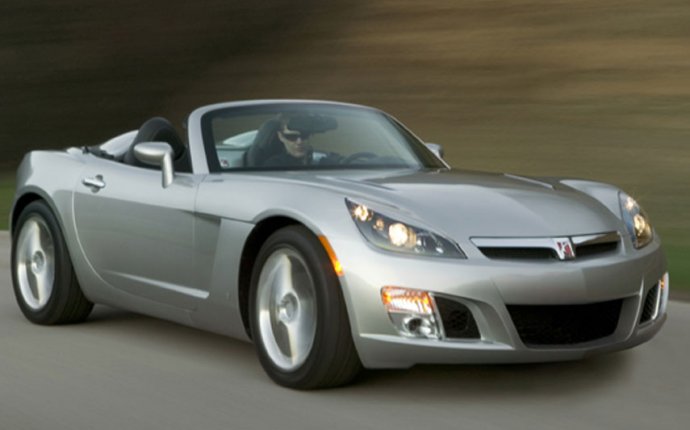 Saturn 2 Door Sports Car
The Saturn Sky, produced for just three model years, was a two-seat convertible produced by GM's Saturn brand. It was the only sports car and the only convertible ever made by Saturn, which was shut down in the 2009 bankruptcy and government-backed restructuring of General Motors.
The Sky was derived from the same platform on which the related Pontiac Solstice was built. The Sky had entirely different styling, created by Franz von Holzhausen-who is now better known for his work on the Tesla Model S electric luxury sedan. The lines of the Sky were still aggressive, but more straight-edged and restrained where the Solstice was rounded and extroverted.
Compared to the Solstice, the Saturn Sky offered more standard equipment-including 18-inch alloy wheels, air conditioning, anti-lock brakes, and keyless entry. Both cars, however, shared all their running gear and the same choice of two engines.
The base Sky engine was a 177-horsepower 2.4-liter Ecotec four-cylinder engine, which could be ordered with either a five-speed automatic transmission or a five-speed manual gearbox. The more powerful Sky Red Line model used a 260-hp turbocharged 2.0-liter four, along with uprated mechanicals that included suspension modifications, traction control, a limited-slip differential, plus various appearance and trim upgrades. A turbo performance upgrade package with revised engine control software and two additional sensors could be installed by the dealer to boost that to 290 hp.
Like the Solstice, the Sky was a grab-bag of mechanical and interior parts from other vehicles in the GM lineup. They came from Cadillac, Chevrolet, GMC, HUMMER, Pontiac, and the European Opel/Vauxhall brands. Side-view mirrors and air-conditioning vents were even borrowed from a Fiat model, since GM owned a share of Fiat at the time.
The result was a good-looking car that, like the better-selling Solstice, handled well and delivered excellent performance with the turbo engine. The Sky remained challenging to use in practice, however. The two-seat roadster had very little interior storage or luggage space, putting the top up and down was time-consuming and finicky, and the powertrain lacked refinement.
First shown as a concept car at the 2005 Detroit Auto Show, the Saturn Sky went into production as a 2007 model and lasted two model years. A total of 32, 500 Skys were built over three years, plus an additional 7, 500 Opel GT models-effectively a rebadged Sky, fitted only with the 2.0-liter turbo and manual, that was sold in left-hand-drive European markets. In addition, a tiny number of Skys were sold in Korea as the Daewoo D2X.
Source: www.thecarconnection.com