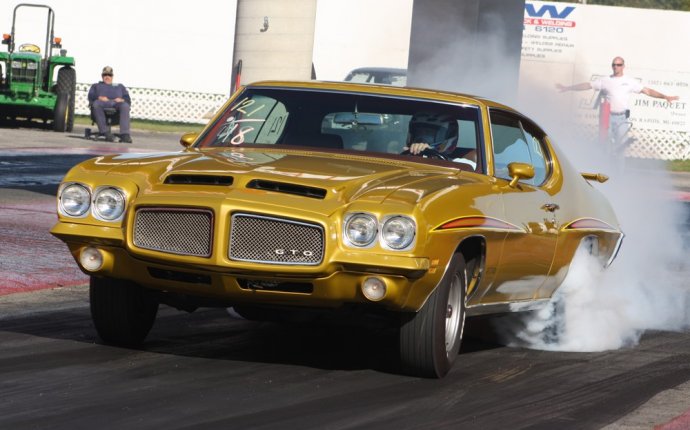 Muscle Car Drag Racing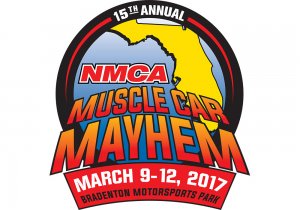 Directions: 21000 E. SR 64, Bradenton, FL 34212
The NMCA Muscle Car Nationals Series starts its season over the weekend of March 9-12, 2017, with the 15th Annual NMCA Muscle Car Mayhem, scheduled to take place at Bradenton Motorsports Park in Bradenton, Florida. As this is the first race of the season, the Northern-based competitors are chomping at the bit to feel some warm weather and get the racing season started. This event will feature one of the season's largest turnouts, with racers showing up to compete in each of the NMCA's twelve classes, plus a large contingent of True Street racers and Bracket Racers.
VP Racing Fuels Xtreme Pro Mod!
Every year VP Racing Fuels Xtreme Pro Mod is one of the hottest classes at the NMCA season opener as these monsters turn up the boost, tighten the blower belts, and fill up the nitrous bottles to put on a show for Bradenton's speed-crazed fans.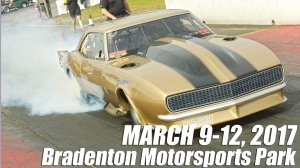 Watch as Xtreme Pro Mod racers put their cars on the ragged edge and set their engine combinations "on kill" in search of the first win of the year that will put them in the points lead.
Watch Street Outlaws on the Ragged Edge
If you're a fan of the Street Outlaws TV show then you won't want to miss the insane, horsepower-infused Street Outlaws of NMCA drag racing! Watch as these incredible turbocharged, supercharged, and nitrous packed monsters go wheels-up and heads-up for big money and national bragging rights. Every NMCA events features the World's Fastest Street Cars!
Outlaw 632 Featured at Muscle Car Mayhem
NMCA is pleased to bring Outlaw 632 to its Muscle Car Mayhem season opener. Outlaw 632 is a fan-favorite heads-up race class that features nitrous gulping muscle car monsters ready to lay it all on the line for national bragging rights.
Holley EFI Factory Super Cars!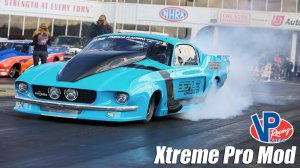 Factory Super Cars is an exciting eliminator designed for the Detroit-based OEM companies to compete heads-up with the modern factory drag racing cars dubbed Chevrolet COPO Camaro, Dodge Challenger Drag Pak, and Ford Cobra Jet Mustang. It is the rebirth of factory muscle car drag racing on the quarter-mile dragstrip!
Want to Race Your Street Car?
Then you definitely want to enter Gear Vendors True Street, the perfect class for any beginner…because reaction time doesn't matter. Join other True Street racers, with passengers, on a 30-mile NMCA-escorted cruise to prove the street worthiness of all cars in competition. Next hit the track for 3 back-to-back passes and then watch as NMCA presents cash and awards to the overall fastest, runner-up and to each racer with the closest average to 9, 10, 11, 12, 13, 14, and 15 seconds!
CLICK LINKS BELOW FOR INFO
Aerpospace Components Winner's Circle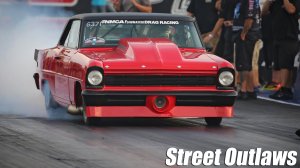 Winning any NMCA class isn't easy and when a racer is fortunate enough to do so, it needs to be celebrated in style. The NMCA has partnered with Aerospace Components to present the Aerospace Components Winner's Circle – making the accomplishment of winning a true celebration. The Aerospace Components Winners Circle experience is second to none in the drag racing world, where every winner actually owns the winners circle.
Love Bracket Racing? NMCA has a class for you!
Bracket Race with NO NMCA MEMBERSHIP REQUIRED! Race Both Saturday & Sunday! For this event.
NMCA Car Show
In addition to all of the action that will take place on the quarter-mile, the NMCA also has the awesome Car Show, which features over 100 class awards, from stock to modified, up for grabs! '32 Ford with a late-model 5.0? Or a '69 Camaro powered by an LS1? No matter what your flavor, there's a place for you in the car show and a shot at the grand prize. Each event also features a large Manufacturer's Midway where you can see and purchase parts from the hottest aftermarket manufacturers and experts from all of the major manufacturers on hand to answer your questions about how to make your Ford car or truck perform to your expectations. There's something for everyone the NMCA Muscle Car Nationals – make your plans to attend now!
Burnout Contest
The World Famous Burnout Contest is always the crowd favorite! Sign up to participate for a chance to win prizes and bragging rights, or sit back and cheer as contestants smoke their tires.
Massive Manufacturers' Midway
Want a chance to meet face-to-face with experts from your favorite performance companies? This NMCA event will feature an awesome manufacturers' midway where you can find great deals on the performance parts you need for your muscle car or hot rod.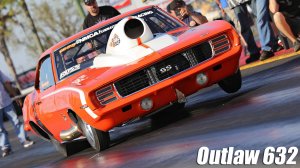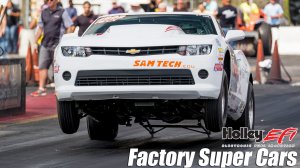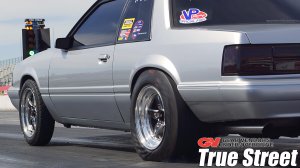 Source: www.nmcadigital.com