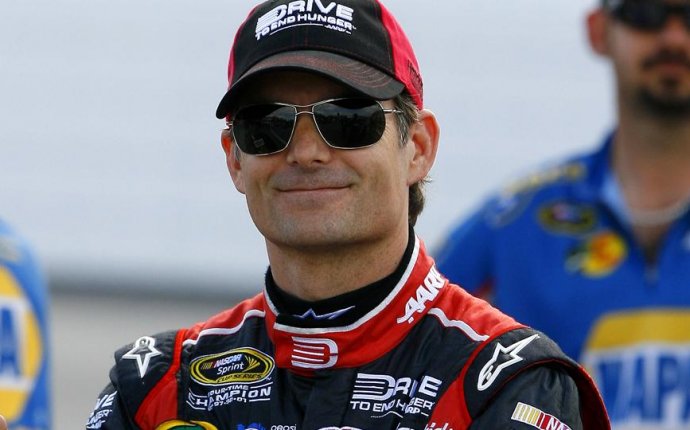 Jeff Gordon Race Car Driver
The winner of four NASCAR Cup Series championships in a seven-year span, Jeff Gordon helped transform auto racing into a mainstream American sport.
Synopsis
Born on August 4, 1971, in Vallejo, California, Jeff Gordon began competitive auto racing at age five. He notched four Series Cup championships after joining NASCAR's top circuit in 1992, his popularity helping to expand the sport's appeal to a mainstream audience. Among NASCAR's all-time leaders in victories, Gordon announced he was stepping down as a full-time driver in early 2015.
Childhood and Early Racing Career
Jeffrey Michael Gordon was born on August 4, 1971, in Vallejo, California. Parents Will and Carol divorced shortly after he was born, and Carol began dating a co-worker named John Bickford, who stoked Gordon's interest in auto racing before becoming his stepfather. Gordon began racing BMX bikes at age four, and the following year he slipped behind the wheel of a quarter midget for his first competitive driving experience. He won the national quarter-midget championship at ages eight and 10, and continued to dominate older children in go-kart events. When Gordon was 13, the family moved to Pittsboro, Indiana, so he could race powerful sprint cars without the obstacle of a minimum age requirement. After joining the United States Auto Club at 16, he won the organization's National Midget championship at 19 and its Silver Crown championship the following year.
NASCAR Stardom
Having taken an interest in stock cars, Gordon earned a chance to race for owner Hugh Connerty in NASCAR's Busch Grand National Series in 1990. He joined Bill Davis's team the following year, his first on the circuit full-time, and was named Rookie of the Year.
Gordon soon caught the eye of owner Rick Hendrick, who marveled at the young driver's control of his vehicle. Gordon signed with Hendrick in May 1992, and he made his Winston Cup Series debut that November in what turned out to be auto legend Richard Petty's final NASCAR race.
Source: www.biography.com