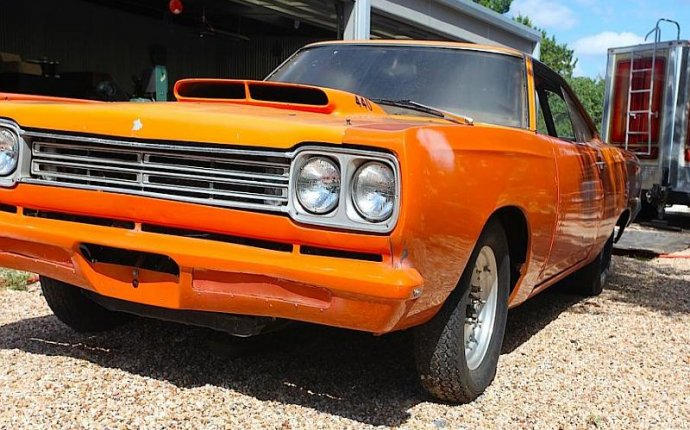 EBay motor Drag Race Cars
Talk about your way-cool potential project vehicles!
Dave Werremeyer, formerly of ProCharger and at present the National Tech Director for Promedia Events and their NMRA, NMCA, and NMCA WEST Series, has placed this gem— a 1968 Plymouth Valiant with a Dodge R5P7 NASCAR motor for power —, giving some lucky to-be-determined bidder out there one badass ride that's already well on its way to terrorizing the streets and the strip.
The lightweight, two-door A-body Mopar is without question one of the more iconic performance body styles of the 1960's, and this particular car is a prime surviving example, spending much of its life in Arizona, where there's no such thing as snow, ice, or salt on the roadways to eat away at the body and underside of the car. Werremeyer has already primed and sealed the body, and the bumpers and glass (sans the front windshield) are all there.
But where this thing really pegs the cool-o-meter is the powerplant. Werremeyer got his hands on a 358 cubic inch Dodge NASCAR mill, that was originally built and prepared by legendary stock car engine man Ernie Elliot, the brother of racing icon Bill Elliot.
These engines, used by the Dodge Winston Cup teams (hey, it's still the Winston Cup to us), are popular with the street performance crowd, but have become quite rare, with the various internal parts and pieces becoming more difficult to find by the day. But this one…it has some of the best stuff money can buy, including Carillo rods, JE Pistons, a Sonny Bryant crank, Jesel valvetrain, and a Comp Cam spec'ed to deliver peak power at lower operating RPM's for the street.
According to Werremeyer, the engine pumped out 768 HP at 7900 RPM and 550 ft./lbs. of torque at 6, 700. Dropping down to a more street-esque RPM range, it'll deliver about 557 HP at 5500, 602 at 6000 RPM, and 702 at 6700 RPM. Werremeyer has backed it up with a rebuilt 727 automatic transmission with a manual valve body, which uses a special flex plate adapter to match the R5P7 motor to the 727.
The no-expense-spared list doesn't stop there though. Up front is a new Overkill Race Cars chromoly k-member, upper and lower control arms and coil over shock mount kit, rack and pinion steering, Strange Engineering brakes, and Mickey Thompson's sharp Pro 5 wheels. Out back is a custom, narrowed 8-3/4 rear end housing with Moser axles, Cal-Trac split mono leafs, and Smith Race Craft Max-Trac adjustable suspension bars, all riding on 15×8 steel wheels from Stockton Wheel company that give the car more of a period-correct look.
The starting bid, impressively, isn't even half of what of W says he has in it, and although we're sure the selling price on this bad boy will increase before the hammer drops, someone is going to get a killer car that's already had much of the dirty work done. And once complete, they'll have a real looker that has the capability to run well into the nines.
Source: www.dragzine.com