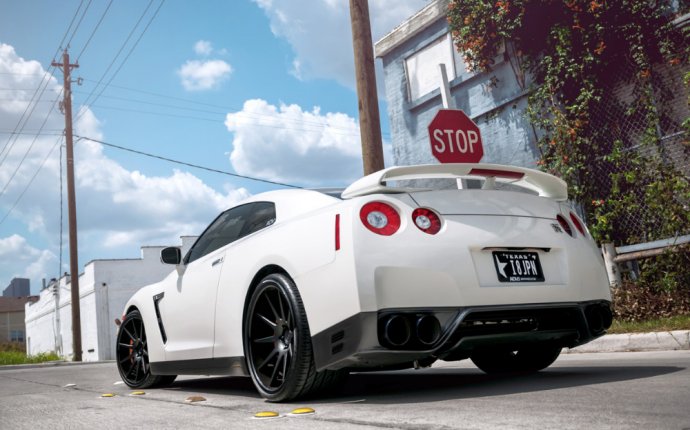 Nissan Super Sports Car
The exterior design is still a mix of funk and function. Updates include a new grille that delivers additional cooling air to the engine, a hood that's 30 percent stiffer to avoid deflecting at high speed, and a more effective chin spoiler. Horizontal sill plates and a delicately recontoured C-pillar diminish turbulence down the sides and over the back of the body. A vertical corner fence borrowed from the previous NISMO GT-R and a more effective rear diffuser also improve aerodynamic performance.
The 20-inch forged-aluminum wheels are a fresh design, there's a cockpit-controlled valve to provide the option of corking the left exhaust outlets for quieter operation for a few seconds after engine start, and ultrasonic front and rear parking sensors are new.
Inside, shift paddles move from the column to the steering wheel, the seatbacks now wrap the driver's torso, and there's a new 8.0-inch touchscreen with triple control redundancy (touchpoints on the screen, buttons adjacent to the display, and a console-mounted controller). Even so, the switch count is reduced from 27 to 11 despite the addition of a few new functions.
Attributes that won the hearts and twisted the minds of the PlayStation generation continue—an instrument cluster that adjusts vertically with the steering column, a center-stack gauge array that reports every pertinent piece of operating data save your heart rate, and a dual-clutch automatic transmission that never misses a shift or a rev match.
Cobblestone streets in some of the small villages drove us occasionally to the dampers' Comfort setting. That tuneability took the edge off the long-haul stress and left us primed and ready for runs toward the GT-R's 195-mph limit. Taking advantage of well-maintained thoroughfares through the Ardennes forest and breaks in truck traffic, we twisted the tach to 6000 rpm and the speedometer to an indicated 275 km/h (171 mph). Whistling along at near bullet speeds is a breeze in the GT-R because Tamura-san and crew took the trouble to perfect this car's on-center steering and aerodynamic stability.
Nissan has the capacity to build approximately 5000 GT-Rs per annum. Like Porsche's 911, its blueprint has a few flaws, but persistent refinement has minimized the evil traits. This car's combination of spectacular all-wheel-drive performance and back seats perfect for preteens graduating from virtual racing to the real thing is what helped it win over more than 1100 buyers in its eighth year in the U.S. market. When the 2017 model arrives this July with a $111, 585 base price, the smart fans will be back for more.
Source: www.caranddriver.com